TGIS – thank goodness it's (almost) SATURDAY. And what do we all do on a Saturday? We DANCE! Today First Dance Studios we have 6 sensational sessions for you to dance along to. Wait, what did you say? Yep, we have a whole selection of flavours of dance for you to take your pick from. Discover your next dance class here!
What dance classes are on this Saturday?
Check out our six-pack round of dance disciplines because today we have tap close work, we have beautiful ballet, we have classic contemporary, we have two tap routines classes and a seriously sassy Latin Solo. Let's go!
**************We're SIX on SATURDAY*************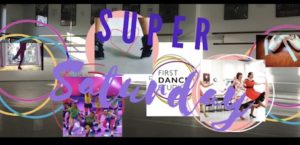 Today, the choreography category starts with….
10.30am CONTEMPORARY with Emily – "Your Guardian Angel" from Red Jumpsuit Apparatus, a music track that will melt your heart and soul. A wonderfully strong beat to accompany to help you stand up and go through it all – that and Emily is exactly what we need.
Two tap classes follows on from contemporary…
12pm Masterclass Month Tap Dance with Karen – this week, closing in on close work. Get loose and shake those ankles and calves for some technical tap tips. As they say practice makes pick up perfect! Popping into our zoom rooms we have the likes of Ella Fitzgerald "Paper Moon," that ol' blue eye Frank Sinatra with "Almost Being in Love," make it like bread and "Rise" with Gabrielle, the gem that is Caro Emerald (who else is fond of a liquid lunch?), lashings of Robbie Williams and Ollie Murs and our firm favourite Giles on hand to remind us of what tap steps we are doing.
1pm Tap Routine with Karen – Learn a new tap dance number, observe a cracking choreography, venture further into shunts, stamps & claps and end on a total tap high. A pattern of ones to test the little grey cells. Oh and the song? That wonderful vocalist that is Nat King Cole with L-O-V-E because that is all we really need. That and DANCE!
Be free to take the next level….
2pm Ballet with Emma – where we all limber up in lockdown and then after some barre work we get all chassé, arabesque with some Liam Gallagher so we can dreamily dance along together. That brass band intro is ballet beautiful.
Get your fifth element fix with….
2.45pm Show Tap with Emma – Wait and see and you'll be tapping away with so much glee that it will make the front page. New tap number so you can bring out your majestic moves to the King of New York. Tap dance is the only way to travel these days!
and finally, 5, SIX, 7, 8, who do we appreciate?
4pm Solo Latin with Katie – the Brewer Ballroom is back and with a whole class of steps to try out. So let's hear it for the paso doble, Argentine tango, Jive, Cha Cha & samba.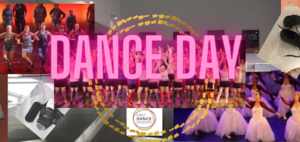 How do I join in with this amazing dance classes?
Simples! First Dance Studios steam classes online through Zoom. Please do get in touch with us for the class ID and password. Then all you have to do is pick your classes, pick your own zoom room and voila, delight in your dance.
Can I get a recording of the dance class?
Of course, all you need to do in order for you to get your dance fix at a time that suits you is to drop us a line and we can send you a recording of the class afterwards.
Anything on Sunday?
Join Sophie on Sunday as she takes wakes us up with Zumba to shake our boom booms (IYKYK) and then eases you into the rest of Sunday with Stretch and flow. Vamos familia!
Tick, tick tick, BOOM – let's shake the ZOOM ROOM!
xx