Who wants to dance with Samba-dy? You always have somebody to dance with at First Dance Studios. Yes indeed, mis amigos, we love to dance together online though the power of Zoom. And for all those Latin lovers out there, join us for weekly ballroom dance classes hosted by the one and only Super Estrella that is Katie! Every Saturday at 3.50pm, Katie will take the lead and showcase a new latin dance routine each lesson. 
Strictly Safe and Sound
Ballroom dancing has risen in popularity over the last 15 years since Strictly Come Dancing (Dancing with the Stars in the US) burst onto our TV screens. And we can see why. Each dance is full of drama and story. And you can enjoy that dance and drama with us. Katie is your brilliant Ballroom maestra and will sort our your drunken sailors from your ronde chasse (swinging round of the leg behind you) and New Yorkers in double quick step time. I do love me a drunken sailor! And all this from your own home, safe and secure. 
Can I dance latin solo?
With Katie and the rest of us salsa stepping out together online, you won't be single nor will you be solo. Learning online means you can work through those steps at your own pace. Katie takes the time to break down and explain each step. So even in a basic Bachata or a single samba roll Katie will focus on each part of the step and how it flows into each sequence. All classes are mixed ability and steps are easy to pick up if you have little to no experience of the ballroom dance style.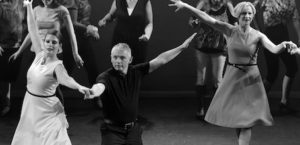 What dances and steps are covered?
Katie channels the zen of the wonderful Len and takes us through each step carefully. Last week she created some exceptional choreography to Gary Barlow's "Elita" with salsa steps, all hips and arms action. So we found ourselves learning a lovely ronde chasse with many leg flicks and a hip bump to get us feeling very much like we all came from Brazil. We felt the latin beat and the choreography had us cheering and feeling all very sexy. And this week Katie has a regalito in store for you all. Para todos ustedes!
When are these latin solo dance classes?
Every week on Saturday at 3.50pm Katie unveils a new number for us to try out. This week we have the Cha Cha Cha. Some wonderful steps set to of all things Muse's "Pressure." A good Cha Cha which is a Cuban dance, needs a good energetic and steady beat.  I love myself some Muse (Uprising is my fave) and this track "Pressure" answers the Cha Cha need of a beat and your enjoyment will grow exponentially!
Please get in touch with us here for details on how to access the online classes.
Bring yourself to Brewer's Ballroom and join us. Bailamos juntos!
xx