What is Zumba?
Since Zumba was introduced at First Dance Studios, it has become a firm favourite amongst our dance family. It's fun, zany, fast and zuper! During lockdown in 2020 we even had ZoomBa and we still keep that going. Sometimes from abroad as well. But what is Zumba? Well, get your maracas out, limber up and get ready to listen to some pumping beats. Ok, maracas are optional. 
Zumba time
Zumba is an up tempo high BPM dance fitness exercise and Sophie is our expert Zumba teacher.  We follow her as she dances out warm ups, easy to follow dance routines and a fun cool down. 
The beats are all peppy and uplifting and each session starts with a warm up track and then each track is about 3-4 minutes of medium to high energy. The steps are easy to pick up and copy. Even if you haven't done the routines before Sophie calls out the movements and reminds us all of the steps that are a bit more complicated and more importantly which leg and arm to use first! Very handy if you are at all like me and can't remember your left from your right. Or was it the other way around? But with Sophie leading, it becomes easy to see which limb and what moment to lift it. 
What is Zumba dance music?
There all types of music genres reflected in the tracks. So whether you like latin Salsa vibes, hip hop, reggae, jive then there is a routine for you. These dance routines repeat so you always have another chance to see them again and have another go. Practice makes Perfect! Sophie makes it a fun class and we enjoy having a high octane dance party together. And you can request a favourite whenever you like. I particularly like the "La gente quiere Calle" which really makes me smile and jump about.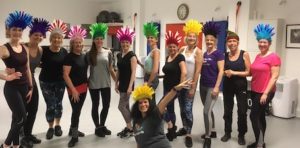 What do I need to bring to each class?
Ok, Zumba can get quite warm and sweaty, even if you are dancing from home. Wear comfortable stretchy clothes like gym stuff or leggings you can move in. Some movements require knee lifts and waving arms about so you really want to make sure you can do those easily. Yes, it gets hot so always have a bottle of water with you or have a glass nearby. Sophie ensures we get regular water breaks. Always keep hydrated. Should the beats get too much, take it easy. Although if you are anything like us, you will keep going and forget the time. Don't forget to breathe! In the studio, dance footwear works best so inside trainers or jazz sneakers. 
And if you can't make it to the studio you can still join us on ZOOM-BA (did you see what we did there?) for live and pre recorded classes. Please have a look at the sessions here and take your pick. Sophie does live sessions on Friday in the studio and also on Sunday online. 
When are the Zumba dance classes?
Remember that it is always a Funday with Sophie on Sunday. For further information please get in touch and you'll Zumba the day away with us.