Now that we all have our own dance spaces at home during lockdown, time to take some tap steps and break them down. We at First Dance Studios are delighted to introduce you to the Masterclass Month. Throughout November, those tricky tap steps will be taken apart so that you can see exactly what they are. Oh come on, let's be pickup padawans together!
What is Masterclass Month?
Every Saturday over the course of the month, Jedi Karen will take you through key aspects from the world of tap dance. If you have ever wanted to know your Maxi Fords from your Fred Astaire then this is the tap class for you. This weekly session is a great, safe, easy way to learn some reoccurring tap steps that are often used in class and especially in show routines. Who is this class for? For those who have tapped and are looking to breakdown and perfect known tap steps. This would suit beginner plus to advanced. Classes can be done online with or without tap shoes. We do advise shoes of some sort to avoid injury. And did I mention these steps occur in show numbers?
Become an expert tapper as you Learn in Lockdown with us. Karen takes the class, ably assisted by the gorgeous Giles, who will explain each step and move. With a thorough warm up and music such as "It's Mavin Gaye" you shall feel the force in your feet!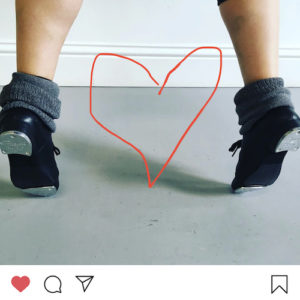 The classes, on every Saturday in November at noon, will focus on the following steps;
Saturday 7th November – "Shuffles"
Everyday I'm Shuffling and with this masterclass, shuffling is what you will do. Within this class, you will see what a standard shuffle is as a starting point. From there, the double, then a 3-beat and then the ever so elegant looking waltz step. As an extra bonus a few of those tricky combo steps will be included as well. Shuffles? Simples! 
Saturday 14th November – "Riffs, Rolls & Close Work"
You gotta roll with it you, you gotta take your riff time. This tap step class will cover the riffs and rolls that regularly come up in routines. So this means the 3,4,5,6,7+ beat riffs, cramp rolls (open and closed) and a few close work combinations to work our feet and minds. In the Thursday 6pm tap routine class we see the 5 cramp roll step so a really useful class to practice rolling about. 
Saturday 21st November – "Timesteps"
It's Party Time…steps! Timesteps are the alpha and omega of tap dance. The timestep is your friend and will serve you well once you get the hang of it. This class will cover the stamp, the triple open, roll, a syncopated timestep, wing prep, LA, travelling. And to add extra sizzle the class will also go through breaks including Irish, Fred Astaire and free. Ohhh fancy!  There is a stamp timestep in the Saturday 3pm Show Tap class which requires a fast feet thinking so ensure time steps are stamped in your mind with this class.
Saturday 28th November – "Showstoppers"
Step up to the Greatest Showsteps. This class will go over the tap steps that most commonly occur in our show numbers. Get ready to smile, stage right or left and sparkle. The steps include Buffalo, Suzie Qs, Ripples, Waltz steps, shuffle springs and more. The show must go on!
How do I join this tap dance step masterclass?
To tap with us, then simply get in touch for information. To join us as we learn and improve our tap technique, the class online with us, come along and do. Yes, hmmm. Simply get in touch with us and we can provide you details of the classes and how to log on and tap.
Together we Tap,
xx