We have some exciting news for you all – First Dance Studios is moving some of our classes to Italia Conti, in Woking town centre! Jazz hands and jumps for joy all round. Read all about it here.
First Dance Studios situated in Italia Conti
All evening and weekend classes will be situated at the very prestigious Italia Conti Performing Arts Institution. Now based in Woking town centre, Italia Conti is home to over 500 performing arts students and famous Alum include stars of stage and screen, Bonnie Langford, Leslie Manville, Layton Williams and more. With over 100 years history Italia Conti is now welcoming our dance community into their fold.
"Dance is a wonderful way to move and express yourself and we are all very excited that our First Dance Studios family is getting bigger by having our classes right in the Woking Town Centre at the amazing Italia Conti Studios! We invite everyone to come along and dance!"
Emma Brewer, Award Winning Creative Director, First Dance Studios
This wonderful opportunity means that our local community can dance in a wonderful bespoke dance space of the highest tech level. This means our very own dance family can grow and thrive.
When do classes start at Conti?
From Monday 20th February, our evening and Saturday classes will spring into our brand-new studio space at Italia Conti. For those looking for a chance to showcase their skills or simply grow their show performance confidence, the state-of-the-art facilities will also provide a perfect rehearsal space for group numbers. All First Dance Studios dancers have the opportunity to join company rehearsals, where dancers learn impressive pieces of choreography for shows and group performances.
"Italia Conti is proud to have First Dance Studios and the Woking Dance Community dance
in our wonderful new facilities – we hope everyone enjoys their classes!"
Hayley Newton-Jarvis, CEO, Italia Conti

Where is Italia Conti in Woking Town Centre?
The Address and Map is below. Please use the Red Car Park and take the lift down to the ground floor. By taking the middle lift, you will come out between the Super Bowl and Italia Conti. Go into the main entrance at Italia Conti which is opposite the escalator and stairs. Please sign in on the website for classes.
Italia Conti
47 Church Street West
Woking
GU21 6BQ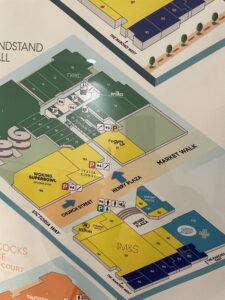 Please wait in reception until your teacher or FDS helper comes to collect you.
Most classes will be in studio 24 on the ground floor to the left of reception with toilets nearby. It is accessible to wheelchair.
Please note that NO food or drinks are to be consumed in any studio. Bags are only allowed in Studio 24. No outside shoes allowed so please bring your dance shoes with you. Non glass water bottles only. And very importantly NO NUTS of any sort in any form are allowed on the premises. Water fountains are available to fill up bottles.
Saturday classes will take place on the first floor but please arrive in a timely manner for signing in.
Jumping into the Next chapter
First Dance Studios thanks Italia Conti for their continued support in our new dance chapter. We look forward to welcoming all our dancers to the studios this February. We are especially excited for our first 'Super Saturday' at the new studios on 25 th February. This ever-popular day of dance features an array of classes, including ballet, tap and jazz, for different levels, making it the perfect chance to try a variety of our classes! All dance, well-being and fitness classes can be seen on our classes page.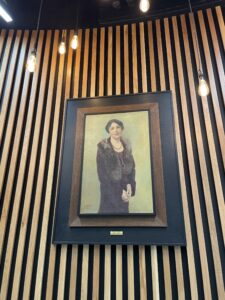 What about?
All daytime classes will continue to take place at Heather Farm in Woking. Please note that Katie Brewer's Ballroom classes will remain at Worplesdon. The tap masterclass workshop will now take place at Italia Conti. For Barre Fitness please bring your own mats. Please note that lost property will be removed from studios immediately. Please note that Italia Conti is a teaching institution and coming to Italia Conti does not mean you are joining the institution or dancing with the Italia Conti students.
We look forward to seeing you there,
From everyone at First Dance Studios,
xx