Welcome to the latest Winter Issue of "Just Dance" 
Want something dance related to read while waiting for Christmas to arrive? Fancy reading something about First Dance Studios and our dance family? Then check this out, a fact packed, fun read copy of our latest magazine. Find out all the studio news over the past six months. So grab the latest copy of the magazine and have a read!
      
The Winter Dance Issue
If we thought the first half of 2022 was busy then the second half really went into over drive and extra time! Shows, performances, meet ups and events, you name it, we likely danced to it as well! We had quite an autumn with classes gearing up to Christmas especially Contemporary and Ballet as well as the choir. For some of our dancers this was the first time performing either ever, ever or with us as a dance company. So well done to all those that took part in Dance Woking's Innovate, First Voices Christmas Fair event and everyone who danced with us right up until the end of December.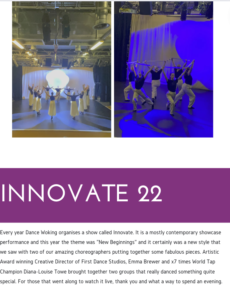 Our dance community and family all came together to enjoy all the dance activities which has been wonderful and inspiring. We went to celebrate the Dance Woking Innovate pieces in November especially Creative Director Emma Brewer's ballet piece "Immersive" which gave the feeling of sunflowers in fields, opening up for new beginnings, which was the theme of this years Innovate. Also our amazing Diana choreographed the contemporary piece "Breaking Free" which was an ode to finding new chapters. Both were so beautiful it was an honour to watch them and all the dancers. Well done.
It was also the first time the choir First Voices performed together for the first time since Grace Fletcher took over as choir lead. We sang all together at St. Johns Church in West Byfleet at their Christmas Fair and it was good fun.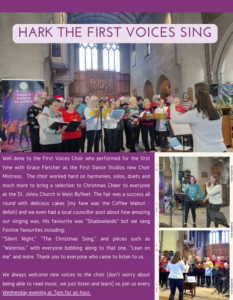 It was so fun to be part of this filming process and we hope for more exciting activities the rest of this year and into 2023. Check out the classes and key dates as well as information about the September 3rd Danceathon. Contact us on info@firstdance.co.uk for further details about the timetable.
**Read the Dance Magazine here – just click the link below*****
First Dance Studios New Christmas Issue 3 Magazine
In the next issue
We talk all about Fitness and how finding out our levels is key to building a solid plan for the future. We also  find out more about Musical Theatre and their events in Send. As well as all the usual fun and more.
And for now, we have a message from our Creative Director Emma,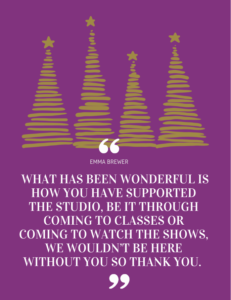 Happy Holidays and always remember to keep dancing!
xx