NEW CLASS ALERT! Yes, we are so proud to bring to you another dance class. And this one is a weekday class led by our very own Fran! We caught up with Fran as she headed to jazz class to find out more about her and her latest class. Read all about it below.
Weekday Jazz Dance Class with Fran
We've seen you at the Copa, we've watched you at the barre and we've observed you tapping away but how did you start your dance teaching career? 
I first started teaching dance when I was 12. My then dance teacher asked me to help out on a Saturday with the baby ballet etc and then I just did more and more from there on. When I was 18 I moved to London to go to college and continued my teacher training and then during my professional performing career I also took on choreography jobs during that time too.
2. It's really fun to be in your classes because you always bring everyone along no matter their level or experience but what is the best bit about teaching jazz dance? 
I love Jazz because it's so varied and often encapsulates lots of other styles of dance. I love watching people improve over time, it's the best bit about teaching.
3. I love jazz especially the music and dance styles, what sort of style with this new class be? This class will be Tuesdays at The Maltings. 
This will mainly focus on musical theatre jazz. This gives us such a wide variety of styles to visit and a lot more freedom to explore other types of dance.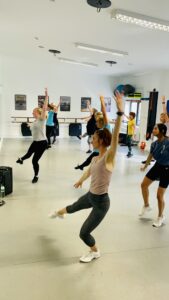 4. Oh sounds great fun, but how do you come up with the choreography? 
I just listen to the music and see how it makes me feel. The moves then just come!
5. Ah you make it look easy. What feelings/benefits would you like people to get from your jazz dance class? 
Ultimately I just want people to enjoy themselves but also feel like they've worked out. After all, exercise is so good for you so it's important to get that heart rate pumping too but ultimately it's about joy.
Fran's Follies
6. We've seen that you have a very creative streak to you and can conjure up wonderful pieces of artwork as well as cakes (I've tasted those and I'm giving you the FDS Handshake – scrummy) – what creative outlets do you enjoy most and why? 
Dance has always been my passion since I was little. There is nothing like that feeling of getting to the end of a routine and knowing you've done it perfectly, especially on stage but for me any creative outlet is a joy be it painting or baking. I do really enjoy making the Christmas wreath for my front door!
7. I love how everyone joins in with your dance classes but you have also been part of the FDS shows over the years –  what have you enjoyed most about those? 
Just the sense of community and performing is my most favourite part.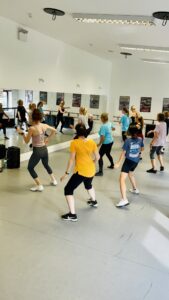 8.  Many of the dance sessions are daytime, evening and weekend and this is the first time we have a dance session at The Maltings  – what makes this place so great for a dance class? 
It's such a creative hub but the space is fantastic and it has a cafe, which is a bonus! It's near the train station too and lots of parking available.
9. What are your key inspirations for choosing music for your dance classes? 
I like to keep things varied so I try to choose something a bit different to the things we've done before but ultimately just something that's uplifting that I think people will enjoy.
10. Now as a triple teacher that teaching the holy grail that is ballet, jazz and tap – which discipline is your favourite and why? 
I have always loved ballet because it's the foundation of all dance but Musical theatre is my first love as this encapsulates all styles and of course, song!
11. Tell us a fun fact about yourself. 
I was in the world tour of Bob the Builder LIVE!!

NEW DAYTIME THEATRE JAZZ class near you
Fran's new DAYTIME Theatre JAZZ dance class for adults is at The Maltings, Farnham every Tuesday from 10.30am until 11.30am. Wear work out clothes you feel comfortable in and bring some water with you. The Maltings has ample parking and a cafe so you are set for a good time!
Contact us on info@firstdance.co.uk to save your dance space!
See you at The Maltings soon.
xx