Let's check in with contemporary this week. Here at First Dance Studios we are graced by the creative choreography champion that is Emily who gives everything to fantastic dance numbers. Every Wednesday at 7.15pm and Saturday at 10.30am Emily enables us to dance to our delight. And all online so you can dance away safe and sound. This dance discipline is so beautiful, moving, poignant and full of emotional content. Find out more about it below.
Contemplating the Contemporary
But what exactly is this style of dance? The clue is in the name itself, Contemporary. It is young and contemporary. First developed in the mid Twentieth century, this dance discipline has come into its own. The techniques are similar to other dance styles but tends to favour other elements. So for example contemporary dance binds the controlled ballet style of leg work to the torso strengths of modern. We see many a contraction and release as a key feature. Floor work becomes more routinely used. My particular favourite movement is the falling with intention and recovery which I feel adds a deeply emotional element to this dance style.
Emily's Elegant Elements
Emily leads a very contemporary dance class here at First Dance Studios. Her passion is clear as her numbers are full of power, strength with a vulnerability that aches with untold intentions. Dancing this discipline is truly divine. There are changes in the speed, direction and rhythm of this dance disciple which gives it an eclectic feel. Movements are on bent knees and arm movements are often elbow led and the result is that force meets object. What I particularly enjoy is the dynamic transfers between weight that look effortless but the control needed to hold each shape keeps you on your toes.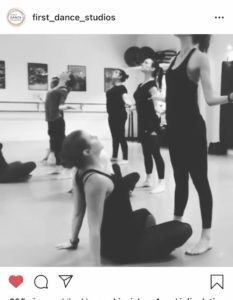 When are the classes?
Join us contemplate the wonderful dance discipline every Wednesday at 7.15pm and Saturday at 10.30am. Now in lockdown classes are all online and you can easily and safely access them from home. Please do get in touch with us for information on the class codes and passwords.
It looks so beautiful
Yes, it really is. The connection that contemporary dance requires, allows us to ground, to soar, to reach and expand ourselves. Contemporary dance is a wonderful way to ensure exercise, allow emotional expression, channel through the heart centre. Being in the now and channelling the emotive qualities of the dance are a wonderful way to keep limber in lockdown. 
Craft your own contemporary classics with us,
xx