Knock at the Door! Time to hit the dance floor! This week, First Dance Studios brings you….Brewer's BINGO. You'll be wanting to get your Legs Eleven out to join in.
What is Brewer's BINGO?
A bit of fun and a chance to combine that with fitness and dance. All you need to do is ask for your FREE BINGO card and then join in the classes and cross them off. So take a class in Contemporary or join us for Charleston dancing in Latin Solo or maybe try out Pivot Points in Wednesday Ballet.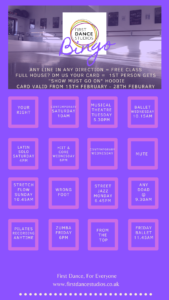 What are the rules?
Here you go, time for fun. Easy to follow along. Ask for a card and then….
ANY LINE IN ANY DIRECTION = FREE ONLINE CLASS
FULL HOUSE? DM US YOUR CARD = 1ST PERSON GETS "SHOW MUST GO ON" HOODIE
There are two cards over the next few weeks. One card is valid from 15th February – 28th February 2021 inclusive. So see how many classes you can try out in that time. The other is from 1st March 2021- 15th March 2021. Eyes up and down and have a go.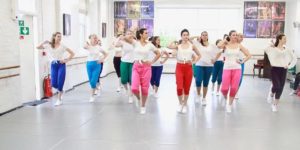 What classes are included in Brewer's BINGO?
The dance and fitness classes for Adults are streamed online both live and also available as recordings. All classes can be seen here and there are videos to check them out to see what they are like. The classes covered for the Brewer's Bingo challenge are:
Street Jazz – Monday at 6.45pm
Musical Theatre – Tuesday at 5.30pm
Contemporary – Wednesday at 7.15pm
Drop off & Dance (DOAD) – Any class on Monday, Thursday, Friday at 9.30am
Pilates – recording available to do at any time
Ballet – Friday at 11.45am
Hiit & Core – Wednesday at 6pm
Contemporary – Saturday at 10.3oam
Stretch Flow – Sunday at 10.45am
How do I join a dance or fitness class?
Either get in touch with us here or check out the daily posts on our Facebook page. We use Zoom and you can use the app and we stream dance and fitness sessions through this app. So you can keep moving in your living room, kitchen, bedroom, garage or even garden.
All together now, Man alive, Half a dozen, Lucky seven, garden gate!
xx