Tuesday, Tuesday, is never like any other day. Why I hear you cry? Because for the next few weeks in Musical theatre we are stepping into the spectacular showmaker of songs that is Sondheim.  That's Stephen Sondheim. Every Tuesday at 5.30pm Vicky leads us in style, song and show and now we jump to the left and make a straight dash into Sondheim musical numbers.
Who is Stephen Sondheim?
While you may not have heard of his name you will have heard his music and lyrics. He is a composer and lyricist and his words and tunes have made him famous the world over. He is a leading figure in 20th Century musical theatre and his work has covered unexpected themes with music that is complex and very sophisticated. His top works include Company (1970), Sweeney Todd; The Demon Barber of Fleet Street (1979) and my fave Follies (1971) with all those Broadway Baby to it all. West Side Story is an interesting piece of his work as he did the lyrics to Bernstein's triplets musical score. Sondheim's music is tonal and he has a gift of complex polyphony vocals (two or more simultaneous lines of independent melody).
What is musical theatre? 
Performances, characters, songs and dance – musical theatre is the full package. We've jumped to the left with both feet in the past few weeks and learnt a new routine to the Time Warp from The Rocky Horror Show. Vicky takes us by the zoom hand. For some further information have a read here. We even performed a montage of musical numbers for Christmas Zoom Shows – with over 21 musicals danced into a routine.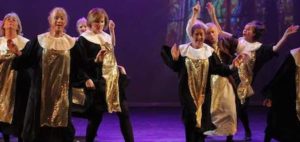 What musical are we covering on Tuesday night?
Send in the clowns, we are sounding out Sondhiem. Ah that wizard of the words, the lad of the lyrics himself. Step out stylishly to the right as we twirl and click and flick into his world. Stay loose boy as we get COOL and let there be very staccato steps as we head to the West Side – and leave that baby shark, time to team up as a shark and jet off into song and dance. West Side Story is a latter day Romeo and Juliet narrative set in New York and we will learn how the different gangs of New York sort things out between them.
Then Vicky will take us through songs from Follies and dare you join us to take a stab at some Sweeney Todd – mind that seat Sir! As we all are at home with enough space for the cat then we'll work on Broadway Baby. Vicky will teach us how to work on different characters and give ourselves the meaning behind the movement. This session is a really great way to uncovering what makes a musical go from show ready to box office gold!
How do I join this song and dance?
Simply get in touch with us for the class details. Sessions are streamed online live and we are working through lots of fun quizzes as well. We learn jaw loosening to sing, dance and then character performance to feel the shows as well as dance them. Vicky's Musical Theatre class is every Tuesday night at 5.30pm.
Stepping out Sharks!
xx