We love to dance and on Saturday we have a show stopping, stomp stepping, sizzling spectacular day of dance!  We at First Dance Studios are offering 7 dance classes and 5 dance disciplines to pick from online. Discover your next dance class here! Have a go from the comfort of your own home, join in with ballet, tap, contemporary, jazz and latin classes.
Can I dance the day away?
Yes, you can. We would love to have you join us. Even if you have yet to try the classes out, make Saturday the day you dance. We have a fantastic bunch of teachers who whack on the music, teach you steps and numbers to a whole lot of us.  Dancers to the (home) stage, your dance number awaits! All other family members welcome, so bring them along as well. Bonus dance points for pets!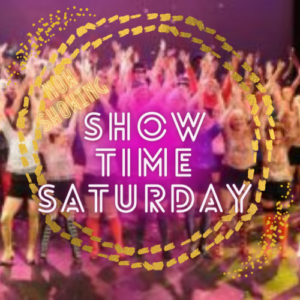 Calling the contemporary creatives to the stage…..
10.30am CONTEMPORARY with Emily – free flowing, strong disciplined lines and songs to lift the soul and spirit. Isolate the movements, pull them into shape and start the day in fab style. Uplifting tempos, slow lyrical waves and gentle yet strong steps that will make you beam in the spotlight (of your own living room/kitchen).
11.15am Inter Ballet with Emily –  begin at the barre to ensure your limbs warm up. Each exercise that Emily talks you through is a masterclass in mindfulness, connection and confidence. Be sure to be a ballet beauty with us as we build up our bodies. Refine your routine warm up and get into pole positions and at the end, get ready to receive rapturous applause from the your audience. Champagne mes amours awaits!
Time for the tappers to tread the boards…
12pm Masterclass Month Tap Dance with Karen – this week, SHOW STOPPERS. There really is no business like show business, this is all about the star moves that makes shows magical! Music tracks include; Annie Get your Gun, Singing in the Rain, 42nd Street and a few more! No Giles this week – he's resting until we get back into the studio. Watch the video to get an idea of what's to come in class! Which is your favourite show step?
Then the Triple Twist begins with….
1.30pm Ballet with Emma – where after a round of pliés, we track our tendus,  relish in those Ronds de jambes. Then for good measure a few dévelopées and adages. And join us for the finale section of "The Show must go on" by Queen and the Royal Philharmonic Orchestra. The dance show will carry on and remember this rendition will give you wings.
2.15pm Theatre Jazz with Emma – who brings to you a very special warm up featuring this beautiful piece by this fantastic voice. Morning by Anders Wängdahl is quite a treat and maybe just maybe we get to hear this one a lot more. And onto the number, Emma has got the chorus down, ballet section beautiful, now we are into the final choreography. Keep everything crossed we get that part, "I Hope I Get it" with kicks, stretches, a sprinkle of street is quite the number.
3pm Show tap with Emma – Stomp your way down to Broadway and pick up a new routine. All from the cosy comfort of home. Now is your one big chance to be in our show! Get ready to be top billing and feel like a babe while tapping away. We can't wait to dance this one back in the studio. Watch this dance space!
*Brewer's Ballroom brings the day of dance to a sparkly finale*
3.50pm Solo Latin with Katie – and if you've been keeping up with Strictly then you're gonna love this next bit. Katie is going to teach a bit of Maisie's Salsa. One word…FABULOUS! When you join Brewer's Ballroom class you'll feel the bling, you'll hear the sizzle and you'll move those pins! Keep Dancing with Katie from 3.50pm.
How do I join in with this amazing dance classes?
Get up and dance from the comfort of your own zoom room. Have a look at the dance disciplines and choose which you want to dance to. First Dance Studios steam classes online through Zoom. Please do get in touch with us for the class ID and password. Join the meeting and boom, zoom into the room.

Ohhh but I won't be around, is there a recording?
Ah yes, we won't allow you to have any DMO – that's Dance Missing Out. So drop us a line and we can send you a recording of the class afterwards. That way you can keep dancing in your own time. When you can make it, excellent, zoom the dance day away with us.
Anything happening on Sunday?
Every Sunday is Splendid with Sophie. She is ready and waiting to wake you up with some Zumba at 10am and then Stretch Flow at 10.45am. Sophie on Sunday really makes it a funday.
Are you ready to discover your dance?
xx