To all of our wonderful dancers, creators, friends and family – THANK YOU. In a roller-coaster year we have been honoured and touched that so many of you have danced with us either on-line or at the studio. After a bit of a shaky start we did manage to get back to our beloved dance studio and didn't we have a fab-u-lous time?!
The Dance Year – Thank you
We are so pleased that so many of you came out to dance with us, we held new classes and had lots of tap and ballet workshops. Well done to everyone who picked up the picks ups and presented in first position. We even had a Danceathon Day where so many tried out new dance & fitness classes. It has been a challenge but together we can find many good reasons to jump, jette, jazz hands for joy. And now a word from the fantastic Emma Brewer,
Where do I start? Firstly, a big thank you with all my heart to you all for dancing with us in 2021. Thank you for supporting us on Zoom, for coming to the studio, for just joining us or even thinking about joining us. At First Dance Studios, we are one big family that welcomes everyone and you have the chance to dance, become fit and well, perform, discover your creative skills and to be part of a fantastic friendly crowd. It's the perfect escape and great fun at the same time. Next year there will be more socials to join in on and talking of performance opportunities….have I mentioned a show next year? Wishing you all a very happy and healthy Christmas. Thank you again and I can't wait to see you all in 2022.
Emma xx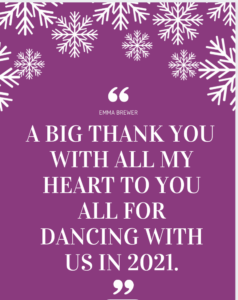 A-Z Creative Challenges
The lockdown earlier this year was quite a challenge so instead the wonderful Emma Brewer came up with a prize winning fantastic solution to our self isolation issues. The A-Z Creative Challenge. Much fun, many laughs later and in some cases a few choice words (Katie B and Embroidery are learning to love each other) we completed over 25 challenges and with over 1600 entries. WOW! A huge congratulations to you all. We have loved each and every entry – you are all so creative! And to all those that nominated Emma and First Dance Studios – she won! Yes Emma won the Bayfields Opticians Community Champion Award! And even got interviewed on local radio on BBC Radio Surrey!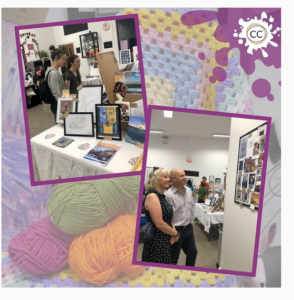 New dance and fitness classes
You asked and we answered. Lockdown showed us that we all want to keep moving, keep fit, and keep together, keep connected and so because of that we decided to add a few new extra classes to the timetable. Already bursting with all types of dance and fitness, we now add these excellent classes. And those classes are; Barre Fitness – where you can really tone and work those muscle groups to support and strengthen your body, Bootcamp – where you can join in a fun workout group, get fit and challenge your fitness levels and Technical Ballet – where you can perfect your pliés and level up your line.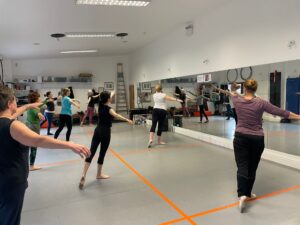 Wonderful Weddings
All our First Dance teachers at First Dance Studios have loved, loved, loved having all our couples back in studio for their first dances. Many couples have been third time lucky with their weddings and we have jumped for joy when we get to see their first dance go live! When you would like a bespoke dance for your first dance then please do get in touch with us here.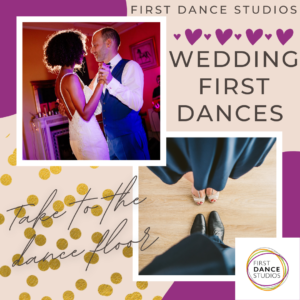 When is First Dance Studios back in the New Year for adult dance in 2022?
So we are carefully watching the News and daily updates along with everyone else. The plan is to welcome you all back into the studio on Wednesday 5th January 2022 at Heather Farm. A New Year Timetable will be available on the Classes page and we will be sending you details about Show 2022 rehearsals. Let's hope for good news in 2022!
What is going on in our Dance World in 2022?
We very much look forward to seeing you again in the New Year. All your favourites will be back including ballet, tap, jazz, contemporary, latin dance, ballroom, choir, Zumba, pilates and much more. We also have tap workshops to look forward to as well starting Thursday 6th January so sign up to save your space. Details here. We also have the wonderful Show. Rehearsals will start in the New Year so keep an eye out for the posts on our social media channels about that and all being well the show will be in April 2022.

Festive Fitmas – Christmas Challenge
And so we are almost at Christmas and a huge thank you goes to Super Sophie with her Festive Fitmas calendar with lots of fitness feasts and treats. This 10 min a day exercise plan has been really good fun and has kept us going while we write our Christmas cards and mull over the TV schedule with the mulled wine.
Happy Holidays and have a wonderful New Year
Take a look at our round up video of this year for us all and thank you all very much for keeping us going, keeping us laughing, keeping us challenged, keeping us dancing and most of all keeping us together!
Merry Christmas, happy holidays, stay safe & remember to keep dancing!
With much love from everyone at First Dance Studios,
xx