And so with another stamp, stamp, pick up, pick up we say CONGRATULATIONS to this year's Tap Basics Workshop tappers! Well done each and every one of you, tap springing and double time time stepping with a fabulous show worthy tap routine after only 6 weeks! Stamp, stamp claps all round. New workshop starts THURSDAY 5th January 2023!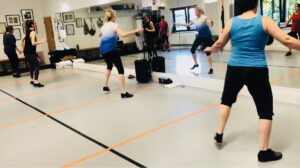 What are tap dance workshops?
You've seen that curtain rise on 42nd Street and those amazing tappers fill the stage. You've always wanted to try it because it looks amazing. Well join in with the next Tap Basics Workshop to learn how to tap dance from scratch. This 6 week course is really popular and there is often a waiting list so please save your spot as the registration for the next tap workshop is now….OPEN! Contact us using the details below to save your space.
How to Tap Dance: Basic Steps
On this tap dance workshop, our technical tap queen, Karen, will take you through the basics. From covering the basics of a tap step, tap springs as well as pick ups, stamps, heel steps as well as learning a short routine from start to finish. All steps are talked through and shown so that they can be practiced. Karen is a super teacher that breaks down each step clearly and shows the moves with slow, sharp, clean lines making it easy to follow.
What happens on a tap course?
Each of the lessons starts with a warm up to ensure that the all important ankles and knees get toasty.  They are going to be doing the work. Then each session will focus on the primary tap steps and combinations. Each week a new step or element will be added.
Learning includes;
Riffs including 4 and 5 beat riffs
Shuffles and Shuffle hops
Pick ups
Time Steps – singles and it is broken down clearly into learnable chunks
And much more including the ever present Giles to guide you to tap-tastic success. Have a look here to read about tap dance information. 
Who is this tap course for?
Each tap course has a mix of people of all tap dancing levels and ages. Primarily aimed for complete adult beginners who have never tried tap before. But it is also for anyone coming back to tap dance after time away. And also for anyone who wants to build on their tap technical knowledge. Jackie from our Summer Tap Basics Course said "Karen made the classes lots of fun. We learnt all the basic steps which she then cleverly put into a routine that we completed by the end of the course. I would highly recommend."
Do I need to get tap shoes?
Shoes are needed to be worn in the dance studio. And while tap shoes are ideal, they are not essential. Please get in touch with us for more information about tap shoes either about where to get them from, pricing and sizing. Jane joined the group and felt it really helped her with her technique, "I have learnt so much & really increased my understanding of the tap names & moves. It's been a brilliant course. You are an amazing teacher!!"
When is the next Tap Basics Workshop?
Seek out your shuffles, take on the time step and hone that heel step at our next Tap Basics Course. The next workshop starts in January, starting on THURSDAY 5th January 2023. The tap dance session starts at 8pm and lasts about an hour. Bring a water bottle and wear clothes you can move around in. And all this for £59 per person (per course). Carly found the tap class a real help, "I thoroughly enjoyed the 6 week Tap Basics course with Karen at First Dance Studios. We were introduced to each step gradually and able to build on these and develop our skills each week. Karen took the time to send a weekly email detailing what we had learned along with a recording of the class for further practice. At the end of each session we put a sequence of steps together to create a short routine which we built upon over the duration of the course. It was such fun and I got so much out of it."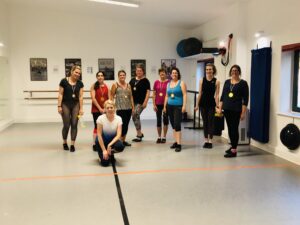 What Tap Classes are on?
Once you complete the Tap Basics Course then you can move onto the tap classes that are available. Every week there are a selection of classes for different levels of tap dance experience. Please have a look at the tap dance section here to see what classes are on weekly. There is a beginners plus tap dance class starting in September which will aims to work your newly acquired tap steps and help you perfect your steps.
And remember that classes are recorded so you can refer back to them and review the steps you learnt in each class.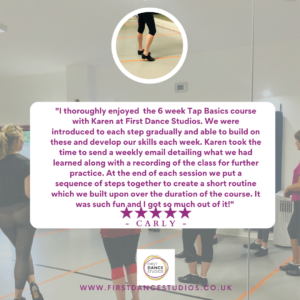 How do I sign up to this tap workshop?
Save your spot by emailing us at info@firstdance.co.uk or you can contact us here. 
Keep tapping,
xx