After the success of the Love Fitness challenges this year, we felt that it was time to get going and get tough with Bootcamp. This new fitness class taught by Super Sophie is every Saturday at 9am in the studio! Check in using Mindbody to take part in the studio. Suitable for all fitness levels – yas, let's do this people! And this month – we celebrate BOOTCAMP BIRTHDAY! Join us for fitness fun.
What is Bootcamp?
Much like Love Fitness, bootcamp classes are short, intense work outs and training sessions. The difference is that these are now in the studio. As many of you will have already experienced, the workouts will be a mix of cardio, weight training all served with a generous amount of ciabatta *checks notes – oops I meant tabata. Many of us have very much enjoyed the Tabata which is a way to train your body in high intensity interval bursts.
What will we be working on fitness wise?
Come all ye fans of many components of fitness. One week it might be Glutes, the next Core. Maybe it will be squats to really activate the legs. Sophie will take us on a fitness journey that you can tailor to suit you. The variety from Love Fitness has been very popular because it means that you know that there are sets of exercises that will work you and your muscle groups. And this week on May 21st – we celebrate in style with Birthday Bootcamp and Stretch Flow!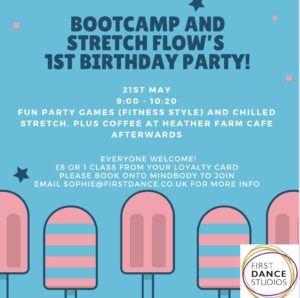 I'm not very fit
Join the club! Bootcamp is for every level of fitness and stage you are at. I'm at the "sat on the sofa and watched Netflix for a long time" stage but I know that Sophie has sessions that work for me. While I know there are others who have been out for daily walks, lunging in lockdown, others have been lounging in lockdown. But no matter as it is for any and all fitness levels. Each exercise group has a countdown, cracking music and much more. My faves are the squats and walk outs but I know I have to work the upper body and core with plank work.
What do I need for bootcamp?
Firstly bring yourself. That is a always a good start. But also bring along a mat, trainers and a water bottle. The studio is currently limited to 10 spaces only so get yourself booked into MindBody to claim your work out box. Want to see what happens in class with Super Sophie – then check this out! Look at these boot campers go!
What else happens in Bootcamp?
As this fitness session is open to everyone, what happens is a fun way to work out and get fit. Everyone has different energy and fitness levels and fitness favourites. So if you only manage one walk out when the person in the next box manages three that is fine. Success is individual so find your fitness together with Sophie and the group.
How do I join this bootcamp class?
Please contact us here or DM us on our social media handles. We can help you out and ensure that you book into the class so you can find your fitness.
Bring on the bootcamp
xx