Time for us all to chassé our summer fitness goals because have we got news for you. First Dance Studios is proud to announce a new dance and fitness class near you! Welcome to Barre Fitness with Samantha. Starting on Wednesday 7th July at 6pm at the studio and online, this fitness class is is now a firm First Dance favourite. But what is Barre Fitness? Let's check it out together.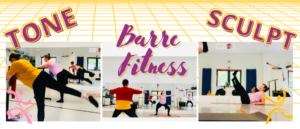 What is Barre Fitness?
I am glad you've asked and I went to this adult fitness class, worked the muscles and asked the questions so you can see the answers here. Barre Fitness is a low impact, high-intensity class that draws on elements from yoga, pilates and ballet conditioning to create a unique total body workout. This sounds like music to my ears and my muscles.
What happens in a Barre Fitness class?
The whole session focuses on small yet strong movements to really work your body. I very much need this because left to my own devices I'll do two reps and then start swiping open my phone. In class the aim is to work four main areas; arms, legs, abdominals and glutes. All these are key to keep all those joints and muscles moving. Light weights are also employed for an extra burn and sculpt. Feel free to bring your own as I did but there are weights you can borrow in class. There are leg raises to work the hip joint as well as using the arms to ballet first, second and fifth position.
What are the benefits of Barre Fitness?
Barre Fitness is a great way to work muscle groups with low impact. I'm still finding my fitness so this was a gentle way to work in strong muscle work. I felt the glutes switch on and work hard. Yes, my legs were shaky, yes I felt them work and yes, I had to focus to keep my balance. And that is the pleasure point, working to ensure the muscles wake up. I could feel them getting stronger and warmer as we went through them. And because a lot of attention is paid to posture, you will feel taller.
What is the difference with ballet?
The main similarity is that barre fitness is much like a barre warm up in ballet. The difference is that more time is spent working each set of muscles. Music is used to keep us going. It combines elements from barre and stretch with Pilates and Yoga but focusing on the intensity of each exercise to get results. There is no dance element to it, instead it is to prepare your muscles for dance and HIIT sessions. Check out this video of barre fitness class here.
What to I need to bring to barre fitness?
I've bagged a box in the studio so please join me at the barre. For the classes please bring along a yoga mat or towel and some light weights if you have them. Socks are a good idea, ideally those grippy ones. And a water bottle so you can keep hydrating as you go. We stop for water breaks and Samantha clearly shows us what our moves are. Barre Fitness starts at the barre (hence the name) and is used for balance as we do pilés (ballet term for  bending at the knee with a straight back) and there are exercises to strengthen the whole leg chain. This is very effective for quads, glutes, hamstrings and ankles.
Who is barre fitness for?
This class is for all fitness levels, the idea is to follow Samantha and copy the moves, so no prior knowledge of steps or dance names are needed. I loved this class as having had a rather serious injury, I really need to slowly and carefully build up my muscle mass and strength. I've been encouraged by my physio to go along to such a class to build up my fitness (which went down to zero) and work my joints and bring my balance back (which again dwindled away). In class there were people from 20s as well as those in there 60s+ and with many fitness levels. If the weights are too much, you can put those down. There are modifications so you can find the fitness level that works for you. I had to stop a few times but I'll be back next week to get stronger. This is what one of the Barre Fitness class attendees said, "I worked every muscle in Samantha's class I didn't even know I had. I really enjoyed the mix of pilates, full body strength and conditioning -it's definitely ideal for anyone!"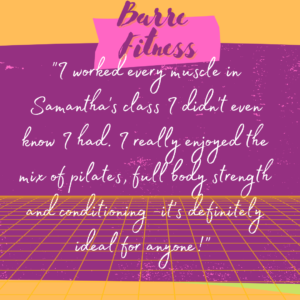 What do I need to wear to this new adult Barre Fitness class?
Please wear what you feel comfortable in for moving and working out. Barre Fitness has positions both standing and also mat work on the floor. So t-shirts and leggings and or shorts work really well. Check out the video or the images of the barre fitness class with Samantha above to see that we chose to wear t-shirts, vest tops, leggings and jumpers. For more ideas on what to wear please see here. 
When is the barre fitness class?
Barre Fitness starts Wednesday 7th July at 6pm at the studio and online. Over the summer, class will be every Wednesday evening for 6 weeks. And recordings are available so even if you can't make a class you can always catch up.
How do I claim my spot?
Ensure that you book in on Mindbody so that you and your mat get a space in the studio. Please get in touch with us here and we can advise you on the times and location of this fun and addictive fitness class.
See you at the barre!
xx