Yes, time for a technical challenge. No, not that one in the marquee with the other bakers, instead we are in the dance studio and taking the Technical Ballet challenge with Fran every Saturday at 10.30am. Technical ballet you say? I do indeed say. Have you tried it out yet?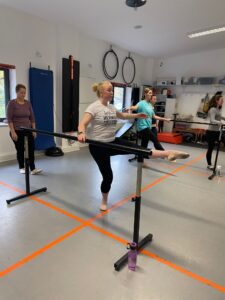 What is technical ballet?
Here at First Dance Studios we love ourselves a bit of ballet. We have over 5 classes a week both in studio and online for all levels of dancers. From general to intermediate the ballet classes are a great way to work out in this dance discipline which is the alpha of all dance. However we felt that there was space for a class that concentrates on each step, sequence and technical aspect of ballet. Fran breaks down each step slowly and carefully and explains it well.
What happens in a technical ballet class?
The barres are placed out and we all begin a warm up to ensure our muscles are able to move through each step. The barre is used for balance and stability as we work each side of the body. By breaking down each step, Fran ensures that we understand the placement of weight and positioning of muscles. I went along on Saturday at 10.30am and we worked on développés and arabesques.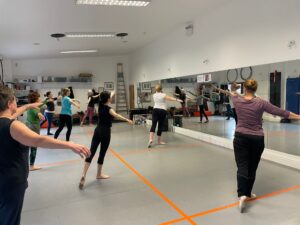 In this brilliant class we all slowly learnt the mechanics of the développé, what it means (to develop or rather unfold the leg out away from the body) and then to put that into practice. I found that my arabesque which is a développé to the back was very lacking. I found with assistance and hands on help that I can do a better arabesque using muscles I hadn't before because I hadn't learnt the technique. Turns out later that day in ballet I was actually able to get my arabesque higher than ever before!
What do I need for class?
Bring yourself in some comfy clothes that you can move easily in. We will be raising arms and legs and bending knees. Please watch our technical ballet video below to see what we wear. In terms of footwear then if you have ballet shoes, please do wear them. If you have yet to get yourself some then get in touch and we can advise you.
Why we love this ballet class?
We love this class because a) Fran is an amazing ballet teacher with years of experience and b) learning good ballet technique is the key to dance success in any discipline. This class is perfect for beginners or anyone wanting to improve ballet technique as well as for those wanting to dance other disciplines. So many dance disciplines benefit from ballet understanding that this class is a real gem for dance ability. Other ballet steps to cover include pliés, frappés, fondus, port de bras, posé, chainé turns and much much more.
When is this technical ballet class?
Join us as we dissect, digest, deliberate each ballet step. Fran's technical ballet is every Saturday morning at 10.30am at the First Dance Studios at Heather Farm in Woking. There is free parking and spaces for electric vehicles with charging points plus the fabulous cafe so you can grab a snack or hot drink before or after class. To join the class please sign up using the Mindbody app or get in touch with us for more information. 
Let's flex with Fran!
xx