Welcome to Fit For Show! This is your 6 week call to the stage. Super Sophie has done it again and welcomes you to get Show Ready with First Dance Studios FIT FOR SHOW!! Wave those hands and shake those legs. Let's pull on the lycra and move our bodies. Oh and yes, we have a show coming up – in April 2022!
What is Fit For Show?
This 6 week fitness package has a weekly workout with four key elements that will help us show shape up;
1. Cardio – Lots of show numbers require stamina and so cardio is a great way to get our hearts beating and legs going especially for those tap routines and some ballet changements.
2. Strength – does what it says – get us stronger, fitter, faster so we can flit and float around the stage. As we get older the focus of exercise means more strengthening to ensure muscles groups are working with us and for us. This means a stronger leg for holding an arabesque and stronger core to keep our chests up and out.
3. Flexibility – Movement and flexibility are key for dance numbers allowing us to make full use of our bodies and limbs to create the dance shapes the choreograph calls for. The wonderful body ripples in the jazz and Drop off and Dance routines require looseness and flexibility to make it look effortless.
4. Balance – Dance is a mix of control and lack there of in a balanced way. Some of the hardest yet rewarding exercises are those that make use of balance to work our brains as well as our bodies. Every dance discipline requires balance and knowledge of weight movement.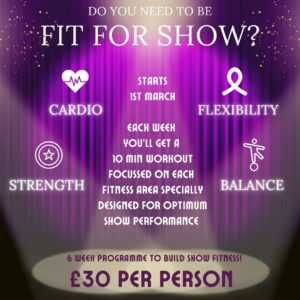 When does it start?
1st of March! Sign up and then you will get weekly exercise based on the four main elements to work through. You can do them at your own pace and then as you get new ones each week you can revisit your favourite ones or the most effective exercises. Fitness training can be fun and with a great goal at the end; a standing ovation!
How much is it?
These 10 minute easy to fit into your busy week exercises are only £30 for the whole six weeks. This means That it is £5 a week. Body rocking bargain.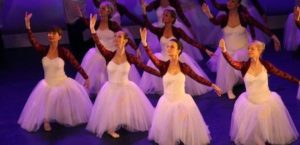 How do I get fitter?
Firstly use the first week to establish where you are with your fitness. Is there an area in particular you feel you wish to work on? I know for me I am going to have to work my ankles and the left standing leg to hold me up for a few slow moves.
By focussing on each different discipline you can see where you need to go and build on. I also know that I need to seriously pay attention to my core and gluten to ensure that I am strong yet supple to take the show numbers to the next level.
Exercises will be released weekly so keep an eye out for them when you sign up.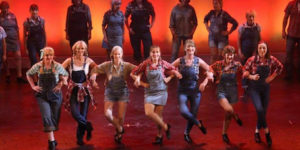 I am not in the show – can I join in?
Absolutely you can. Whether you are in the show or not this 6 week programme is perfect for you to work towards your personal fitness goals. We have many in the First Dance Family that will be coming to watch and we will require audience participation. From clapping of hands, to throwing your arms in the air to cheer us on. Getting show ready means for the audience as well. Let's get fit fam!
What do I need for Fit for Show?
Yourself, water, some comparable work out clothes, a mat, some weights. And even if you don't have weights some food cans or bottles can work well. Maybe a towel for support and some good shoes and a solid surface if you are doing this inside. Mind the cat, the dog and the furniture while trying to get fit though!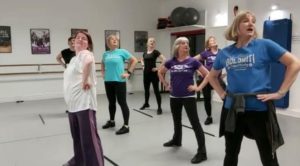 Sign me up with Sophie!
Excellent – Sophie has a great fitness package all ready for us to get show ready. Please get in touch with us on the socials or email us on info@firstdance.co.uk – Fit for Show, Fitness for all.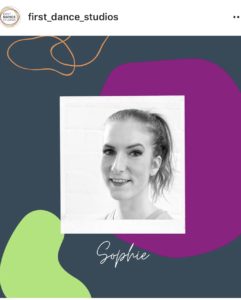 Show Ready fitness fun, starts 1st March 2022!
Let's do this!
xx