We continue our First Dance Studios series about our First Dancers aka our fantastic dance teachers. This week grapevining their way onto the floor – we have our Fitness Fille who is a Surrey Wide Fitness Finalist, Sophie Vickery. She keeps us fast, fit and in fine fiesta style every week. So let's get to it – Super Sophie shows us what makes her tick. 
1. Sophie you are a finalist for best fitness instructor in Surrey in the Muddy Stilletos awards – congrats for this – how did you start on your dance and fitness journey?
Thank you! And thank you to everyone who helped me make the final! I suppose it all really started to take off when I was at university. I found university mentally hard at times so both dance and fitness were my escape. I met an amazing Zumba instructor, Lia, who persuaded me to become an instructor. She would put me beside her at the front so I could experience it. At first,I wasn't keen as it was massively outside of my comfort zone but I soon felt the energy and reward you get from teaching and I was soon hooked. I qualified in 2015 and since then I've loved learning and teaching more and more different programmes.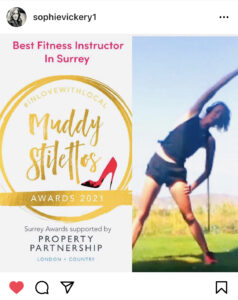 2. Zumba arrived at FDS in 2018 and established itself as a firm favourite  – what is Zumba and what advice do you have for those who want to try out this fiesta of a fitness dance class? 
Zumba is a latin based dance fitness class which is designed to improve cardiovascular fitness and release endorphins! It's packed with all kinds of dance rhythms and is easy to follow. For those wanting to try it, I'd say allow yourself three classes to get used to the music and steps – after three classes, you'll be working up a sweat and dancing like no-one is watching! My other top tip is to stand in the middle of the class, not at the back! It's sometimes harder to see back there, plus we sometimes turn around so you'll always have someone to copy. And wear suitable trainers, it's quite intense on the feet…I've seen it all – converses, sandals and flip flops, yep that's right, flip flops (Be warned – The instructor cannot let you participate without suitable footwear!)
3. Oh duly noted on the fit flops! Fitness is a huge part of your life – how do you come up with the combinations for both the Fitness Bundles as well as bootcamp?
Ah this is where I unleash my creative side! They're based on my training and qualifications but I design every session from scratch so you'll never get the same class twice with me! I tend to start by giving the class a theme, for example a certain fitness component or target muscle groups. I then identify the exercises which fulfill the theme and then I set the structure, for instance it could be circuits, time or reps based. As my classes know, I like to be creative and make it fun, especially during lockdown when we were online…It's amazing what workouts you can do with household items…!
Did you sign up to our Fitness Bundles? Check them out here. 
4. What advice would you have for those that really want (need) to fit some exercise into their lives but not sure where to start? 
Schedule, schedule, schedule! It's all about planning exercise into your week and sticking to that schedule. Start small – If you set yourself an unrealistic goal, you'll fall off the wagon pretty quickly. Do something you enjoy! But also commit, you probably won't love every form of exercise in the first 30mins if it's totally new. Remove barriers which prevent you from exercising, for example if you're spending more time travelling to your exercise than actually doing it, perhaps look for something closer to home. Or, if you've chosen an expensive exercise and it's hurting the bank balance, mix it up with something cheaper. Or, if you don't have enough space at home to workout, rearrange furniture to make a dedicated exercise space or opt for outdoor activities.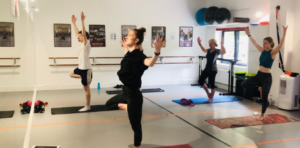 5. What are your dance and fitness inspirations in terms of people and choreography? 
Wow, where to start! Firstly, music – once I've got the music the rest tends to follow. I'm always Shazm-ing songs in the car, gym, shops! I'm a radio 1 girl so that's a massive source of music inspiration for me. 
For dance, I'm inspired by Beto Perez (Zumba founder), Johannes Radebe and Oti Mabuse, plus so many West End shows! I once helped organise an event for Darcey Bussell's DDMIX, that was pretty inspiring! 
Fitness wise, having just finished watching the olympics, I'd say literally all the athletes competing there! Serena Williams is also a real fitness queen to me. And also rugby players – I'm always amazed by their ability to exert strength, cardio, agility and power all at once! 
But, most importantly, I'm inspired by the people in my classes. Watching people grow physically and mentally, watching them work hard and improving every class is the greatest inspiration I could ask for. 
6. What does a perfect fitness week look like to you?
Variety! So a good mix of strength, cardio, stretch and power work, plus lots of dancing!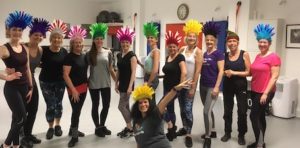 7. Dancing – I agree! Diet is also an important part of fitness and dance – what suggestions do you have to keep energy levels level and up before, during and after class?
Protein! Even if you're vegetarian or don't eat much meat (me), there are so many protein sources, for example protein shakes, protein yogurt, eggs, pulses, edamame, tofu. Just watch out for sugar levels in some protein bars.
For before/during class, I'd go light and simple with things like banana, yogurt, nuts or eggs/avocado on toast.  
8. Be honest, you don't like the plank do you? Any other exercises combos you like or dislike? My faves are the wall sit and anything dance.
No jokes, I love a plank – It's so effective! Plus, you can catch up on your fave TV shows while doing it. Core is my favourite muscle to workout. I don't really dislike anything but I do moan a lot about the Sled machine and Assault bike!
Once, when I reached the 50th class of one of my HIIT classes, I made the class, myself included, do 50 reps of everything including burpees…an hour of that, it was a mistake! 
9. I will happily trade in x50 burpees for x500 mountain climbers – not kidding. What are the biggest challenges we face to build strength and flexibility and how do you suggest overcoming those? 
Everyone's body composition is different and we all have different builds which means some people build muscle quicker and others are naturally more flexible, and that's okay! The key is consistency and frequency, little and often. 
Often the biggest challenge is menatlly. Either lacking a plan or lacking self-confidence. Set your own personal goals and don't compare yourself to others – Be realistic, if you're tall and lean but your friend is short and muscular, they're probably going to increase their squat strength at a quicker rate so there's no point comparing, run your own race!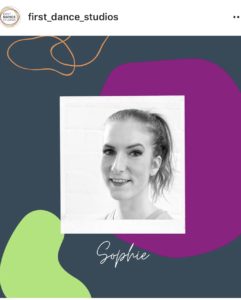 10. Ok finally, everyone wants to know this answer to this extremely important question – Top Zumba dance – go!
VERY hard! I'm going to have to say 'Firehouse' (a merengue).
When you fancy joining Super Sophie for the fabulous Firehouse, bring out your best for Bootcamp or feel free and flexible in Stretch Flow, please look at our timetable on the classes page. 
Sophie and her classes are back in September – keep an eye out for information or contact us here. 
Keep Fit, keep it fun!
xx