Is this your first time? Dance can be daunting if are you new to the discipline but here at First Dance Studios we are very much of the opinion that dance is for everyone and anyone can dance. We welcome newcomers and beginners into our dance family here because we love dance and we feel everyone should be free to express themselves through movement and music.
Are you new to dance?
If your answer is yes then always feel free to contact us with any and all concerns you may have. We've listed the most frequent questions and concerns below as well as on our FAQ page. Joining a dance session may feel odd at first simply because it is new. Now is a great time to do so as you can do zoom from your room at home and even turn the camera off if you prefer. However we do love to see friendly faces and feel we are dancing together from our zoom rooms.
What clothes should I wear for dance classes?
We are really chilled out about dance wear and you really don't need to spend much. Especially now we are dancing from home. Throw on some leggings and top and you're ready to go. If you are a complete beginner to dance and/or to dance classes with First Dance Studios then there is little need to spend a lot of money on new clothing. Simply wear what you would to the gym or for a run and let's dance. Jeans, skirts, shorts, trousers, tops, as they say anything goes. Ensure you can move and feel comfy in what you choose to wear to dance class. Here is a post about clothing for dance classes.
What dance shoes do I need?
Most dance disciplines will need their own specific shoe. Dance styles like tap and ballet come with tap shoes and ballet slippers. However as a starter feel free to wear trainers or socks for now. Again here is a post but again for most classes your trainers etc will do. Even in socks though be careful on your carpets, polished floors etc. Tap dance can be done in trainers (we recommend always to wear shoes).
Oh I'm nervous about dancing in front of others, what should I do? 
We were all newbies to dance once and many people we have in our dance and fitness classes took up dancing much later on life. Some joined ballet at the age of 40, others took up tap late into their thirties so you really won't be alone. We often have workshops for beginners in tap and ballet where others will be in the same position. However as you currently dance from home with our live classes you can always turn your camera off. We also have the option of having a dance class recording so you can see what dance classes are like. In the studio, when we are there which we will be, feel free to take a spot at the back of the room if you feel shy. We're just happy you are dancing with us!
I won't know the steps, I won't know what to do!
Most of the time neither do we! Many routines are new and we all learn together. We get things wrong all the time – I always get the wrong foot, get very confused by turns, mis-time the beat and then the arms but hey guess what? We learn, we repeat, we have a laugh, we have fun, we get fit and we do it together. If you don't know a step or need it repeated shout, our teachers are there for you. That's what they do, they teach so you can learn. No one is pivot perfect. Dance is a skill and with patience, perseverance, practice we all move together. What makes it perfect is that you do the best that YOU can do and we welcome you.
What will people think of me dancing?
Well we will already love you because we love dancers and we will love that you are dancing. Honestly, people will be in awe that you have the confidence to learn a new skill while having fun at the same time. Dancing is also great for your fitness and your mental health. Dance is a workout without you realising it. You can push yourself as much or as little as you like. Sometimes I got a bit too far….and we've all seen that photo of me doing the freestyle flop on the sofa after a particularly full on DOAD session. But honestly who cares what others think! If you love to dance, when you want to dance, we'll know you are smashing it! Welcome to our dance family.
I'm shy about my body – dancers are a partiulcar shape aren't they?
Again, we welcome all shapes and sizes because we are all shapes and sizes. Dance is for everyone and while we all have hang ups about our bodies we still dance. Being Latina I will always have a belly and thighs that jiggle in time to each tap step and you know what?  I bring my belly to the ballet (or jazz or tap class) and we both have a great time. Check out our shows and performances pictures – as you can see, we love every body shape. What unites us is our love and passion for dance! Use your body, discover your dance.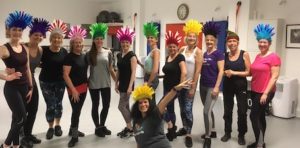 I identify as male – can I join in dance sessions?
Here at First Dance Studios, we firmly believe that dance is for everyone. Yes of course, if you want to dance, we want you to join us. However you identify we see only one thing, a dancer! And what do dancers do? We dance!
I sweat and go red faced when I dance though!
Of course you do – and so do the rest of us – dance is athletic, cardio, fitness, strengthening all in one so if you are sweating and getting red in the face – hello, it's because that's normal. Your body is being normal and working hard to stretch, flick, kick and more. We all sweat and if you need to bring a towel to class or have by you at home then do it! Check us dancing our little tap toes out
I'll get all the steps wrong!
We're humans and we are always learning and yes, we all get the steps wrong. Even the teachers! Even a routine or step we've done hundreds of times. Very normal and part and parcel of dance life. But through learning and listening and dancing we get many of them right! Or was it left? Oh well, let's just dance!
I'm top heavy!
Many of us are generously proportioned in that area. That's life and the many stages and changes that we experience. The reality of dance is that there are jumps and movements that make things jingle about or make some things harder. We recommend a good well fitted bra for high impact sport works well. I've been known to wear two bras for ballet jetes to feel more confident in class. Ensure that you find a style, brand or cut of a bra that works for you. Do you prefer a font zip? Do you feel more supported with thicker straps? Whatever style and cut of a dance bra top you prefer then join us for some serious Salsa in Brewer's Ballroom, every Saturday at 4pm.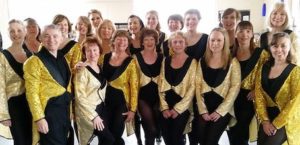 I have bingo wings!
Ah yes those things. Mine, I am sure are making a dash for the Southern borders but that is why we have lots of arms sequences in many dances. The effort of holding your arms up is exercise and does help. Sophie has been working us hard with Love Fitness on Demand and my wings are definitely having a think about that trip south! But clothing works wonders if you prefer to cover them up. Always remember, we love you as a whole with or without your bingo wings.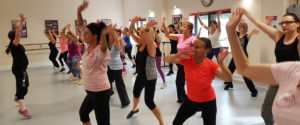 Does my bum look big in this?
Small, medium or large, you look wonderful. Glutes or our bums are our powerhouses for dance. We need them so much. Those are the very muscles that make us leap, support us in a pilé bend in ballet or allow us to do a grapevine. Switching them on will work them and if weight loss is part of your annual goals then dance is a great way to help. Enjoy how dance makes you feel, enjoy the music and enjoy moving your body. We welcome all of you to dancing with us at Heather Farm in Woking or from home with our online streaming classes.
I won't know anybody at the class!
We are a friendly chatty bunch and we love people who love to dance so if it is your first session in the studio then relax. Our dance friends and family are very welcoming and happy to see and dance with new people. It is always a bit stressful to join a new group but we endeavour to make every dancer feel special. And if you're still finding yourself feeling a little new dance student at school then find me – I'll be your friend, your dance buddy. I can always be found dancing about or finding new freestyle moves to include into routines.
How do I join classes online?
Simples – please get in touch with us here or check out our social media pages here. We would love for you to join us in the studio and/or online so whenever you are ready to dance, we're ready to dance with you.
Keep dancing
xx