Time to peep that shoe! Here at First Dance Studios we love shoes with soul and soles. For our dance and fitness disciplines, we can talk for hours about what shoes to wear. From colours, styles, sizes and more, let's talk a walk and chat all things dance shoes.
What is a dance shoe?
To dance whether you choose ballet, tap, jazz, contemporary, Latin Solo for example, shoes maketh the movement. Dance shoes were created especially for each discipline to achieve the shapes and lines in each cheorgraphed routine. They also protect the foot during dance and from the dance floor or surface. They tend to be slightly more fitted and tighter than normal shoes though this is personal preference.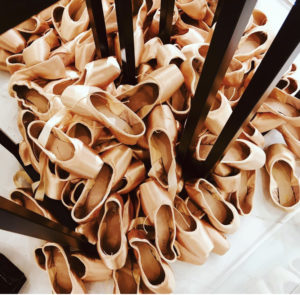 Why are dance shoes so important?
Firstly they are for foot protection so you can slide, glide, flick and kick with more ease. Then of course for movement definition so that positions can be attained easily. And also for dance studio protection. Hmmm can I wear my trainers or my boots to class in the studio? Well no. Not only is the shoe specific for a dance style but it is there to protect your feet. Also the shoe serves to protect the dance surface. The floor is purposefully made and laid. Most dance floor are either sprung or overlaid with special hard wearing but specific material to take on all sorts of dance. Also mud and stones from shoes can actually cut the floor, make it dirty and leave marks. So dance is important for both you as a dancer and for your feet and the dance floor.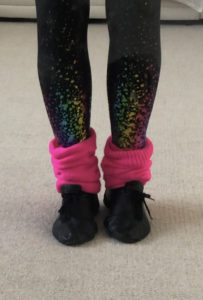 What dance and fitness classes need dance classes?
In most of our adult dance classes online then you can wear your trainers or socks or jazz dance shoes. For tap dance then your tap shoes and a hard surface work well. However once in the studio then there are special dance shoes. If you are new to dance or a beginner try out some of our online classes to see what they are like and see what style of dance you prefer.
Ballroom & latin dance – for class at home in your zoom rooms then either use a jazz dance shoe or sneaker or a ballroom dance shoe. The ballroom shoe for women come in several heights and also can be open-toed, close-toed or semi open. The shoe has a softer supple sole and bridge than a normal high heel for example. These are not meant for outdoor wear. They are for dancing so the foot and can, flex and stretch as well as breathe. Feel free to contact us for more advice on shoes. I like a closed toe for now but I do have my sights set on satin strappy pair of salsa shoes. I got my closed toe ones from Freed but Bloch, Move and other brands stock them.
Tap Dance
While streaming online tap sessions from your zoom room, then trainers, jazz shoes work well. We advise against bare feet, flip flops or socks simply because you can hurt your toes or feet. (Been there, done that, total ouch!) In the studio tap shoes that have the metal plate on the sole and heel are necessary as they make the sound we want. There are various types from Oxfords that lace up to cuban heels. These below are a low heeled, Capezio with full lace up. Check out our tap dance classes here, we offer adult tap sessions that include show tap, tap routines, tap technical and tap along for fun.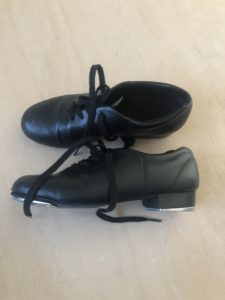 Ballet Shoes – ballet shoes are usually a slipper style foot covering in canvas, cotton or satin. For normal class in studio I favour a black leather simply so it goes with my leggings. For shoes and performances the ballet slipper is usually the ballet pink to work with the costumes. The shoes or slippers come with a few inches of elastic band much like a bra strap. This is for you to sew one each side of the inside so that it holds the foot to the shoe, keeping it in place. The slipper itself usually has a little cotton thread inside the rim so that you can tighten or loosen it as you prefer. I like mine quite tight so I can push into each step. Mine are from Bloch but other brands are Capezio, Alegra. The long satin ribbons are usually for shows and exams or pointe shoes. Pointe shoes have an in-built box and shank that protects the feet and gives the ballet dancer that particular foot silhouette. These shoes are for experienced dancers. To see what ballet is like then please see here.
Jazz Shoes and Sneakers
I have wonderful memories of my ballet teacher who would also teach jazz and she would wear a jazz shoe for both classes. These worked for both ballet and jazz but were mostly for jazz. They were low and supple and tied up – they can also be elasticated. They are usually rubber soled so you can get good traction. However as jazz dance evolved the jazz shoe also changed and now we see the jazz sneaker. This is more of a trainer and solid shoe which comes in handy for street dance and dance that requires more work. I first saw these in hip hop and street funk jazz classes but they are really supportive and have a flexible sole. Usually material mesh with a thicker sole. I have a few (I know, I like shoes ok) and my latest pair are from Bloch (if you sense a bit of a toe trend here, yes I very much enjoy Bloch shoes). For all the jazz dance classes as well as Drop off and Dance check out this dance page. 
Barefoot Dancing – at times some dances and performances call for dancing barefoot. This is seen in contemporary dance routines but has been known to happen in jazz dance and in ballet. To dance barefoot is a performance statement and very much a chosen part of the choreography. The Capezio Footundeez are a great hybrid of footwear sock that has a little pad making it easier to turn than just barefoot. And yes they do look like little rabbit underpants! Contemporary classes with Emily are on Wednesdays and Saturdays.
What size do I need for my dance shoe?
Dance shoes tend to come up in some cases large and in others small. Our advice is to go to a store and get fitted. Given the current pandemic and lockdown we suggest you look online and order a couple of sizes and then return the ones you don't need. If you would like further advice on shoes, types, styles then please do get in touch with us here at info@firstdance.co.uk
Discover dance with First Dance Studios,
xx