Here at First Dance Studios we often get asked this question. What should I wear to ballet? What clothing do I need for Zumba? I shall outline a few outfits ideas that can work for you and your budget. Dance wear is varied and often tailored for each dance or fitness discipline. However to dance with us either in studio at Heather Farm, Woking or at home when you join us online, feel free to choose what you prefer. If you need some advice on dance wear, please read on for some ideas.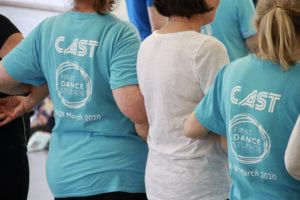 Dance Outfit of the Day
Here we go, we are giving you the DOOTD! Which ever dance discipline or fitness activity you choose when you join us most outfits are really personal choice. For those that have grown up going to Ballet Baby classes and progressed through the RAD and ISTD classes, outfits were very much pre-determined and very uniform. For example I recall wearing specially branded leotards that would change colour for each ballet level, peach pink tights and leather ballet slippers with pink satin ones for shows and performances. However in our adult dance and fitness classes here at the studios in Woking, Surrey and/or online, the outfit of the day choice is up to you!
So what can I wear to ballet class then?
While ballet is a dance discipline it can get warm after barre exercises so we find layering works very well. Many who come to class wear leggings and a t-shirt just like for going to the gym or for a run. Some dancers like to wearing tights with shorts or ballet skirts or shorts. Some choose sports vests or tops. Cardigans, jumpers and hoodies are often used at the start to keep warm. As ballet gets warm and involves jumps many of us wear outfits that allow for movement. Have a look at the ballet belles in this image. Leggings or tights, shorts or skirt, t-shirt, long sleeved cardigan. Your dance, your choice.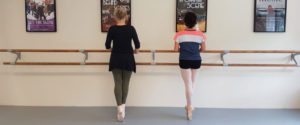 What about dance wear for tap classes?
The same principle applies. Our lovely tap dancers have worn anything from t-shirts, tops, leggings, shorts, jeans. So whenever you fancy joining us in class then wear what makes you comfy. It also depends on how many classes you come to and when you have clothes wash days. If you come once a week that is very different if you dance almost every day.
Do I need to spend a lot of money on dance wear?
Simply, spend what you can and want to. Be it shorts, tops, leotards, rights, skirts, you choose. I love to wait for the sales and cherry pick any clothing I see can work for dance classes. From long t-shirt dresses to floaty skirts and loading up on leggings make your dance wardrobe your own.
Where do I buy dance wear from?
Ok, let's get down to dance wear details. In the past many of us have enjoyed a trip into London, popped into Freed, Bloch or Dancia International right in the heart of theatre land in Covent Garden. The fun days we've spent being fitted for ballet and tap shoes as well as jazz sneakers. It has now been quite a while since we've been able to physically go and play around with clothing so some of our favourite dance wear websites include;

Suits you dancer
We feel that you can dance your best when you are dressed in a way that makes you feel comftblbe. We are all shapes and sizes and at different stages of life. Whether you have wobbly bits, curvy bits, straights parts, you all look fantastic to us so wear whatever feels good to you. Do you prefer shorts as your legs get very warm? Then do it. Do you prefer wearing vest tops as you sweat a lot if not? Then do it. Do you prefer to wear loose clothing to cover those bumps? Then do it. Cotton, jersey, spandex, nylon, even a onesie just come to dance and fitness sessions in whatever you want.
For further details on our adult dance classes, please take a look here. 
Dance for you,
xx