THANK YOU SO MUCH. Thank you each and every one of you. This year has been quite the spicy guest on the dance floor right?! However, we have loved dancing with you, we have loved laughing with you and we have loved seeing you both in studio and online. For those that came along to the Christmas First Dance Studios Soiree, it was a great night. Thank you. And while this year turned out a bit differently than expected at least we all kept dancing together. Did you see your favourite dance class performance? We had all types of dance going on, bloopers, pets and all of you wonderful dancing people! Check out our social media here for the Christmas Special.

Keep dancing! 
Seeing all your faces last night, enjoying spending time with you all, week in and week out, has lifted our hearts. It has given us purpose and joy and a great way to dance the stress away. Each of us, thanks you so very much.
Thank you!
"What a year hey! At this point, I should have been thanking you for being in our fantastic show in March and thanking those of you who came to see it and for that wonderful standing ovation you gave us every night, haha. I should have been revelling in the brand new classes that we started this year and recalling the stories from our summer party, ooh what japes we had, mentioning no names.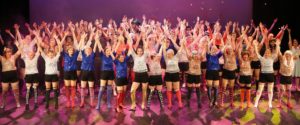 Well there is still so much to be thankful for…
Firstly, thank you for Zooming! I really mean this from the bottom of my heart as it would have been so easy to stop classes and close the studio but so many of you stuck it out, put up with the internet and supported your teachers and the studio. FDS is still very much here and flourishing and will continue to do so in 2021 and that is down to you. That is also thanks though to the amazing teachers that we have. I am so lucky to have such incredible teachers who are my friends (or sisters) for life and I thank them for putting up with the stress of teaching on Zoom, for keeping everyone connected and for keeping everyone going in more ways than one. I must also thank Julia and Lorraine for keeping everyone so connected with their wonderful social media posts and website marvels.
What has been apparent this year is that I know that between us, we will do everything that we can to keep the studio going. It's not just a question of keeping us afloat financially (although that has helped, thank you) but we really have to keep the FDS family together which means that we can all keep doing what we love and that is the best stress release in the world. Not that I have, but I will never take the studio, the classes, the teachers or any of you for granted. Thank you, I mean it.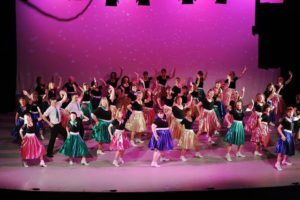 Dancing into the New Year
Have yourselves a very Merry Christmas and a Happy New Year and here's to 2021 and my post this time next year will be thanking you all for our amazing show, the standing ovations and the hilarious antics at the summer party."
*THANK YOU EMMA AND ALL THE TEACHERS FOR KEEPING US DANCING*
When is First Dance Studio back in the New Year? We are back, bright eyed and sequinned tailed, on Monday 4th January 2021. Updates to timetables will be available closer to the time and we will be putting the details out all over the place. Rest assured that your dance floor favourites will be back. Sequins are optional (but we do love them!)
What is going on in our Dance World in 2021?
We very much look forward to seeing you again in the New Year. All your favourites will be back including ballet, tap, jazz, contemporary, latin dance, ballroom, choir, Zumba, pilates and much more. We also have tap workshops to look forward to as well. We are keeping an eye on the COVID-19 situation and keep you informed of changes to classes and other events. However we are still aiming to have our show go on in full swing in October 2021.
Christmas Gift
This Christmas is a chance to relax and re-connect with things. A time for family and being thankful and this year has really put these things into focus. Enjoy, stay well. But after eating a few too many mince pies or choccies you can still enjoy a little bit of festive fitness. There is one last chance for a live Zumba session this Sunday 20th December 2020 at 10am. In the zoom room, Sophie on Sunday will take you through the last class of the year with cracking beats to keep you in shape to pull the…Christmas….errr…crackers! And if that isn't enough you can get 3 for 2 Zumba pre-recorded classes to keep you going over the holidays. Please get in touch and we will sort your Zumba fix out.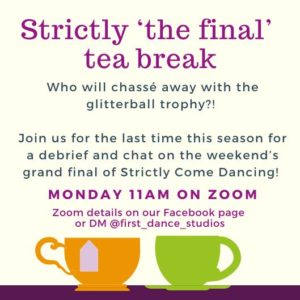 Strictly Zoom Room
And this Monday 21st December at 11am we have our final Strictly Tea Break. Join us to chat about the winners of that Glitter Ball Trophy. Did Maisie become majestic? Or did HRVY hoist more than Janette? Maybe Bill will be brilliant? Or will Jamie jump about to win? Join us this Monday to discuss. Whether you are an Anton Angel, a Craig Chica, a Shirley Star or a Motsi Marvel you are very welcome to chat along with us this Monday.
New Year, New Dances 
We shall be back in the New Year, with new dances, new routines, new classes. From all of us at First Dance Studios, thank you, it has been a pleasure to share the dance floors and your halls (kitchens, living rooms) with you this year. Until 2021, keep well, keep safe and…
Merry Christmas, happy holidays  & remember to keep dancing!
xx