And we are back in the dance room and this week it's the turn of our Sparkly Shuffler, Horsell Hoofer and all round dancing superstar that is Karen. With a busy week of adult dance classes bursting with swirls and twirls, Karen teaches tap dance at all levels as well as delivering over 27 routines in Drop off and Dance. Teaching 10 classes a week see all of Karen's classes here. 
1. Lots of people joined in your tap taster and Drop off & Dance classes on the dance day we had in September 2021, you teach both tap classes of various levels as well as the ever popular Drop off and Dance – now with x3 classes a week – how did you start your dance teaching career?
I have always danced. I don't remember a time before dance!! And in a way I've always taught too. Even when it was just teaching a routine to a group of friends when we were 6 or 7! I then taught my class at High School for their GCSE year as the teacher couldn't teach dance and everyone wanted a dance class, and then I taught tap for Woking Dance Space (then Harmony Dance Studio) and then, when we returned to the UK after some years overseas, I reconnected with Emma and started REALLY teaching at FDS! And here I am!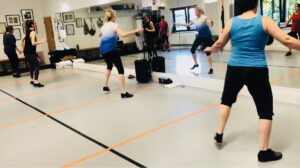 2. Lucky for us all that you are here kindling all aspects of dance. Tap dance is a huge part of your life, you teach the recurring adult tap dance workshops (x2 so far this year) – what is the best bit about teaching tap?
Hands down, no question, it is THAT moment! When someone has been struggling with a step – it doesn't matter what level they are – and we have worked out the issue together, put a solution in place, and then, finally, after however long it takes, they do it! And they fist pump, or jump, or squeal!! And so do I!
To see a tap workshop in action please take a look at this video. Karen runs an introduction to Tap dance for adults periodically throughout the year. For further dates then please get in touch with us here. 
3. I will definitely be cheering when I finally get the Schottische routine. What is the trick to improving tap technique? And what is the timestep you next want to learn? What is the hardest/easiest bit about tap to learn?
The key to tap technique is in the basics. Get the basics SO solid that they are untouchable and the rest really just comes. Repetition is also key; asking questions when it just isn't quite right for you; and getting off the floor, up, up UP!
I don't know what will come our way next for new time steps, but my favourite from days of old is the roll time step, and my favourite new-ish one is the pendulum timestep.
I think the hardest part about learning tap is that you are also learning a new language at the same time. It's not a discipline to be copied, its a discipline to be learned… and that means knowing the names as well.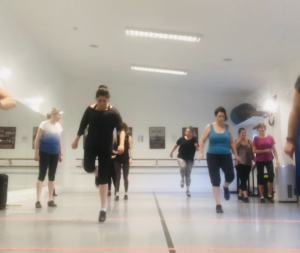 4. Drop off and Dance – does what it says on the tin, but how did it start and what style of dancing does it involve?
Drop Off & Dance was the brilliant brainchild of Emma, and although now it is more of a standard studio jazz dance class it is still just brilliant! Originally designed to be run from a school hall, so parents drop their children into school, and go straight for a dance class to kick start their day. Proceeds were then divided between the studio and the school – genius! But the truth is most schools use their halls A LOT and there just wasn't the availability, so after a few years of using hub studios around the county we brought it back in house.
Drop Off & Dance is for anyone ANYONE who loves jumping around their kitchen to the radio when no-one is watching! We take about 6 weeks to learn a new routine, and then we add it to our pile of routines and start a new one! It is just so much fun, a really great workout and a proper laugh with friends!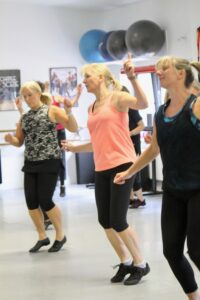 5. Right, understood, Drop off and dance is for ANYONE so anyone can join in and there is a class on Monday, Thursday and Friday and wait hang on….Wow – 27 routines and counting ! How do you manage it? How do you choose the music for these classes?
If a piece of music makes me want to dance – that's it, piece chosen! Sometimes I get hooked by the lyrics, particularly in slower music choices but generally if you can't sit still while the song plays… I want it!
For the full play list check out this video of the Drop off and Dance style.
6. Having taught at FDS for almost 10 years, how do you come up with the choreography? Is there a specific place you conjure up such fab pieces? How many routines would you say you have choreographed during your teaching?
I always approach a new piece with a totally clear mind. I never watch any videos or rehash any moves if possible, I just let the music play and see what comes out of my feet and body – often a load of rubbish for a while but then something just "works" and so I keep it, and play around with another section until we have a whole new routine to teach.
My kitchen tends to be my main choreography site when I have actually PLANNED to choreograph, but very often things come to me at really bad times, like driving down the road, or when I'm lying in bed!
7. You also sing and recently showcased your voice at KenFest 2021, what genres of music or style of dance inspire you the most? And why?
I honestly don't have a favourite. I love everything from the 1920s up until today – excluding rap and VERY heavy metal! In terms of singing I seem better suited to either jazz or musical theatre, it just suits my voice more than modern pop and other styles, but I love singing most things really.
And for dancing I really enjoy the range, I mean in our repertoire now we have Charlestons and jives, 70s disco, tribal pieces, stage routines, lyrical flowing pieces, funky, almost street style numbers – I literally love them all, and the diversity.
8. Drop off & dance certainly is very dance diverse, what do you feel are the benefits of dancing and why?
There is literally no down side to dancing! People find they lose weight or change body shape for the better, without even realising they are exercising. People "escape" from their worries and stresses for the duration of the class, and leave feeling mentally stronger and ready for what's ahead. Others enjoy feeling a part of something, with like minded people. You can just be yourself, let loose, have fun, make friends, get fit, stay well and smile smile SMILE.
9. I can confirm there is much smiling in class which is something we all love and connects us all a lot. It is so much fun to dance in a group and a big part of First Dance Studios is the show we put on every two years, how do you come up with the choreography for a show number? The first number you did was "Rain." What is performing like?
Show numbers have to be approached a little differently from studio pieces, and Emma is THE QUEEN at this! It's not my best skill if I'm honest, I can choreograph, but I don't have the stagecraft that Em and Katie brings to theirs.
Really it's making a routine more visually impressive with groupings, lines, certain moves that are very effective to an audience, and funnily enough one of the most impressive things to watch is everyone "stopping" at the same time! So a sudden halt in a routine looks awesome on stage.
Performing TERRIFIES me! And yet I love it too! I am  always proud when I have done it, and pleased that I put myself through the doubts for whatever cause the show or event is for. I think I always doubt my ability and feel like the weak link, and then I remember that probably EVERYONE feels the same and, more importantly, that's NOT what it's about!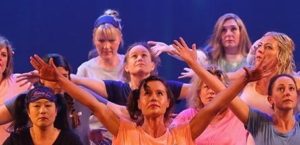 10. That's so true, it's really more about having fun and getting the show on the road. Are there any other dancers/choreographers/singers that inspire you and what is it that inspires you about them?
Not in the mainstream world of dancers and singers, because I don't really know those people, how much of what we see is "them" and how much is their team?! But in my life I am overwhelmed by the talent at our own studio. Emma & Katie are both fabulous dancers in their own right, but can also produce some really impressive routines for others. All our teachers offer a new edge, a new side of things for the dancers to explore, I think between us all we make a great team!
To join in any of Karen's classes check out the full timetable. Drop off and Dance is every Monday, Thursday and Friday and Karen teaches tap on Mondays, Wednesdays, Thursdays and Saturdays. To know your tap dance level have a chat with us and we can let you know where best to start.
Keep dancing!
xx