So, wanna know a little secret? Come a bit closer….closer….perfect…Right, well, between us pals and gals, dancing makes us feel good/happy/alive/joyful/amazing and all of those and much more. And here at First Dance Studios, we can't contain this secret any longer. Yes time to share that with the world. And as it is almost Black Friday, here's the dance deal – share the fun and bring along a friend or two for free!*
Dance with your friends
We've had mates from all over rock up on our online classes. From France, Italy, Austrailia, Scotland and even just up the road in London. Everyone is welcome, everyone is invited. Friends, family, bring along whom so ever you wish. And why not makes some more friends? Now we are online once again, we still want to keep dancing together. So if you have a friend, pal, colleague who you know would love to come along and join in, then now is the time (step). Share a Salsa with them, tap dance a duet, bond over ballet or simply hang out with our dance family. 
How does it work?
Quicker than you can say, "chassé, pas de bourrée". All you need to do, is find those dance friends who have always wanted to give it a go but never got round to it. Now is the time. Send them the class details and let us know. If they need any help with logging in then please get them to contact us.  So why not bring a friend (someone who hasn't been before) to any zoom class. Yes, they have to zoom from their own front room (or kitchen/garage) but if they get referred by you, they get one free class!  Amazing! Watch as we all sign in – does anyone think that bit is like the lights on the Eiffel Tower twinkling as everyone pops into zoom rooms?  – And then….we DANCE! 
What classes can my friends come along to?
From the 24th November 2020 until 1st December 2020 each friend you bring can attend one free class. You can bring along as many friends as you like. We would love to see your friends faces as well as yours so feel free in invite anyone. Our dance classes are mixed ability and the beauty is that you can try them out. With over 25 classes a week from ballet, tap, street jazz, contemporary, choir, latin solo, Zumba and more, the only difficulty will be deciding what class to choose. Please see all the classes here so you can take your pick. 

Make room for more Zoomships
Being in lockdown is hard. Dancing away from our wonderful studio space is hard. Not seeing friends in person is hard. But we have the next best thing, Zoomships! Yes, before and after each class we have a quick chat. I'm always putting my shoes on at this point and running around after the cat while chatting with our dance family online. It is a wonderful, safe way to see a happy smile, hear a funny story and share a musical moment. From Best Friends Forever to First Dance Studio Friends Forever, dance friendships revolve around fun, music, dance and jazz hands!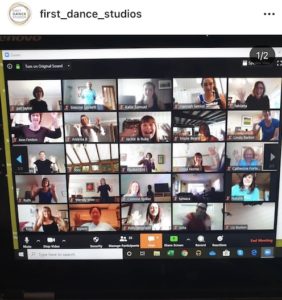 And yes, when we can dance again together in the studio, you, your friends, your teachers will be there. We can get through this together. Ensemble!
xx
*Terms and Conditions – Deal valid from 24th November 2020 to 1st December 2020 inclusive. Each friend you bring can attend one free class.