Did you hear that sound? That is your text dinging to tell you that it is time. Time to get the Summer Bundle of Fitness Fun. Keep fit, get stronger and feel good this summer. First Dance Studios spreads the Love and introduces the Summer Fitness Bundle. Our amazing dance and fitness instructor, Super Sophie who is a finalist in the Muddy Stilettos Awards for Best Fitness Instructor in Surrey, brings us this bundle to keep us slaying this summer.
What is the Summer Fitness Bundle?
Our previous three "Love Fitness" bundles were roaring fun and now we have a whole bundle of fitness for you all ready for the Summer. A whole bunch of short workouts, access to 4 Barre Fitness classes in studio and outdoor fun (with a post workout social). Not only that but it also available on demand. Sign me up for Summer!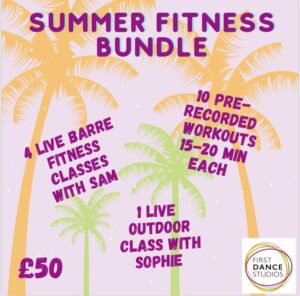 What level of fitness do I need for this Fitness Bundle?
Super Sophie has put together 10 workouts which can work for your level of fitness. The workouts are simple to follow and suitable for all fitness tastes and energetic abilities. Check out this fitness packed bundle!
+ Available throughout August
+ 10 pre-recorded 15-20minute workouts
+ 4 live, in-person Barre Fitness classes with Sam at the studio (Wednesday evenings)
+ 1 live, in-person outdoor class with Super Sophie including a post-class social! Details below.
+Available on demand – Use them when you like and as often as you like throughout August.
+ £50 per household so the whole family can work out.
+Sign up now to have the Summer Fitness Bundle delivered ready for August
What will the 10 workouts be like?
There is a real mix of all sorts of workouts in the Sophie Special Summer Fitness Bundle and you will be able to pick and choose or do them all. With over 10 pre-recorded exercises as well as an outdoor class and access to Barre Fitness this bundle keeps giving! As for the workouts, check out the list below;
1) Beach Booty – move it, shape it, go for it. This exercise will work and strengthen the glutes.
2) Suns out, Guns out – so wave those arms about. This workout will help the upper body & arms find their form.
3) Sweatfest 1 – Shine, glow and sweat your way through this HIIT challenge. You can do it!
4) Sweatfest 2 – Double dare you to do this one. Have a towel handy to wipe your brow.
5) Sizzling Shoulders – Get your Bardot tops at the ready for this exercise will shake those shoulders into shape.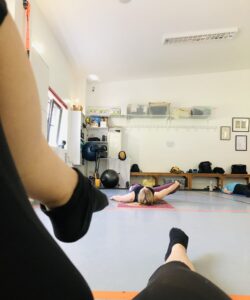 6) Bikini/Speedos Abdominals – Get to the core of the matter and work it – Speedos optional!
7) Pimms-ready Sports Day – All the fun of school sports with a bunch of fitness games.
8) Zumba Summer Party – This sassy workout will make you think you are in your very own "In The Heights" fiesta.
9) Sunrise Stretch Flow – A gentle flow combination to wake the body up to take on the day.
10) Sunset Stretch Flow – And so to sleep but not before this set of exercises to reset your body.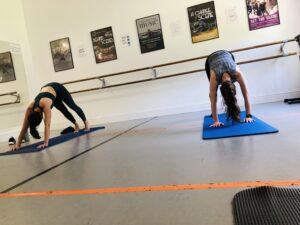 There are 10 of them so pix and mix them throughout the week and/or month. They are designed to be short so you can fit them in at the start, middle or end of your day and you can fit them in when you can.
When is the outdoor exercise class?
News just in, this fantastic outdoor class led by Sophie will take place on Monday 16th August at 6pm. Held at Heather Farm, park up and join us as we work it outside all together. Don't worry, if it rains then we can be inside in the First Dance Studio.
What is Barre Fitness?
Barre Fitness is a way to work out and strengthen the muscle groups. This class is every Wednesday at 6.20pm at Heather Farm. Details about what happens in class are here for you to see and read. By grabbing this fitness bundle you will be able to go to four of the Barre Fitness class at Heather Farm.
What do I need for the Summer Fitness Bundle?
For your 10 workouts you may need small weights or cans or packets of beans. Also a mat for floor work and stretches would be good. Always have a bottle of water at hand to keep hydrated and you may also want a towel to dab yourself as you glow (sweat in my case). Whether you decide to workout inside or outside wear supportive shoes like trainers. For the outdoor workout please bring trainers, water and if the sun is out, don't forget to slap on some sunscreen.
Get ready to slay this summer with the Summer Fitness Bundle. Grab yours right now by getting in touch here or emailing us at info@firstdance.co.uk
Keep Slaying
xx