After the Christmas holidays, January can always feel long, grey and did I mention looooooong? And now lockdown?! Again, seriously? However this January with First Dance Studios, inject some colour, music and movement with dance, dance, dance!
"Lockdown 3 – the quest to stay home…again"
It may seem that we are all in the longest film franchise that could also be called the Never Ending Story. So in order to let in light, find some relief and connect with each other and ourselves, join us this month. Maybe you've set yourself some new goals for this month and year. Maybe you want to tone up, join a new class, lose some weight, keep sane, make friends. Whatever your motivation this month, discover your dance with us. Shake off the lockdown blues, stave off the cold and shake it up and to the left and right. And as we are all online then you can dance from anywhere!
Let's learn in lockdown
Let's challenge ourselves. What exactly have we in store for you? The teachers have a sensational smorgasbord of sessions for you this month for all adult dance classes as well as a kids class. (Very helpful to destress after homeschooling) From fitness to fun, we've got it covered. My highlights this month include;
1. TAP DANCE ROUTINES – Take me to tap! With over  classes of tap dance classes a week there is always a class to suit you. And Emma and Karen are on hand to take you to the next level. Thursday and Saturday and tap days, so who wants a little LOVE in their lives? Listen to the beats as Nat King Cole serenades us and tap along with us and learn new steps, new routines, new combinations this month. Classes can be seen here. 
2. LATIN SOLO – Where are all my ballroom beauties? Could the dancers join Katie on the dance floor please? Yes, Brewer's Ballroom is very much OPEN and this month what a tantalising treat awaits you. From the paso doble, Argentine tango, Jive, Cha Cha & samba, Katie has steps to get you sashaying, get you swinging and keep you smiling. It's a 10 from me! Every Saturday at 4pm.
3. STREET JAZZ – Who wants to pop, lock and rock the night away? With Diana (actual medal winner) you'll be saying yes, yes, yes as we get down and send out the street vibes with "Sweet but Psycho." Plenty of hip action and movement in this adult dance session. Feed your own dance crazes every  Monday night at 6.45pm.
4. BALLET – Find your very own oasis and be inspired to dance and dream with Emma this month. Thanks to the melodic notes of Liam Gallagher the spotlight is firmly on your steps. With balancés and arabesques, this ballet number is like a warm hug and mug of tea. More pliés! This wonderful class is every Monday night at 6pm and Saturday at 2pm. There are a further five ballet classes as well led by Emily and Chrystele.  See them here.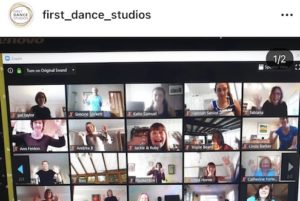 Make more dance decisions
5. DOAD – Just dance! Just Learn! Just take part and move! The Drop off and Dance sessions are fun and we have a trio of them every week. Every Thursday at 9.30am we roll through a zoom room curation of dance routines that are a mix of dance style. Then Thursday from 11.30am and Friday at 9.30am a new routine to learn, this month, Elita. Oh that Gary Barlow certainly comes up with the choons to make us move.
6. HIIT & CORE – Commit to HIIT, get fit. This January, work that body and tone it up. Work to your own pace and level so set the bar as high as you want to. High Intensity Interval Training aims to burn calories and Sophie has a month long program to take you up a fitness level. This bootcamp style session is a must to keep your weight goals in check. Every Wednesday evening at 6pm.
7. MUSICAL THEATRE – Ahhhh time to channel the Adorable Audrey and get yourself wrapped up in warps as this month we delve into the Horror genre in musical performances. Yes, Seymour won't know what's hit him as we take on "Somewhere That's Green" as we sing out loud. And who wants to learn a new way to do the Time Warp – jumper more than a little to the left and take a big step to the right! Every Tuesday night at 5.30pm. 
8. SHOW JAZZ – If you feel like you need a shake up and you can't get to the shops for some make up, join Emma as she makes us find our inner fierce dance! Bringing "Tonight Belongs to You" this Brewer babe, will have you flipping and skipping until you own that runway. Classes are Tuesday at 6.30pm and Friday at 1pm.
From the Top once more
If 2020 taught us anything one huge thing, it was to live as much in the moment as we can. So grab a spot on the dance floor with us and take part. The First Dance Studios are in Woking, nestled in beautiful countryside and nature reserve no less. However we are all rehearsing and dancing from home so please join us keeping safe and keeping sane together. For information about how to sign into our classes please contact us here. 
Discover your own Dance this month,
xx