For many of us, dancing in childhood was simply jumping about to the charts on the radio in the kitchen. However many of us started formal dance at children's dance classes. Every Saturday on a weekly basis, there would be ballet, modern, tap classes. Either in a village hall, a school gym or anywhere that had enough space to practice "good toes, bad toes." Dance classes for children are a great way to help coordination, attention, balance and a love and appreciation for music and movement. 
Does First Dance Studios have dance classes for Children?
Here at First Dance Studios we run a weekly kids dance class led by our excellent Vicky Jukes who is a genius when it comes to picking a playlist. She started running the Kids Dance Club in October 2020 as we all felt that children need a chance to decompress after a day at school and have some fun. Especially given the new normal, so why not make it all a bit extraordinary?  So once a week on a Wednesday at 4pm, Vicky runs the Kids dance class.
Dance classes for kids online
This dance class is fun, busy and a giggle for children to join in with. And the best thing is that you don't have to go anywhere. All the dance classes are live-streamed so you can check your child in securely from home and away they go. Everything from "Dance Monkey" to "Let's Get Ready to Rumble" a full range of upbeat music, Vicky ensures there is a beat for everyone.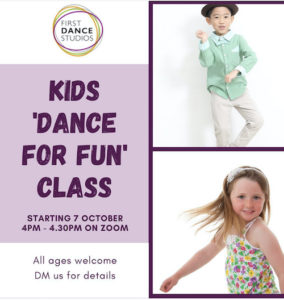 Dance for fun – all ages welcome
Classes include a warm up to ensure that everyone is ready to have a boogie. Vicky is great at interacting with the children and asking them questions and what music styles they like. She breaks down new routines and explains clearly how to move. Paola (10) really enjoys the classes and her family felt that it was really good for her to keep moving especially from home when other activities have ceased. And we even have children joining in from Italy! As the weather gets more inclement and let's face it, cold, dance classes from home work really well around school and homework. 
To get your children involved please get in touch with us here. If you fancy trying our some of our all abilities dance classes have a look at our timetable. 
Shout and twist the day away with First Dance Studios,
xx