Ok, you've side stepped in Theatre jazz, you've wrist rolled in Musical Theatre a la Fosse, you've flick kicked in Drop off and Dance and you've stepped it out with a few paradiddles like a Queen in tap dance but hang on, want to listen to the whole of the weekly music you hear in dance classes? Now you can – check it out!
Introducing the First Dance Studios Dance Playlist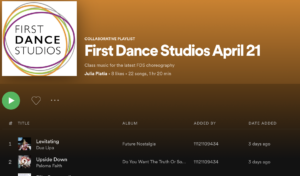 Join us as we welcome to the stage;
First Dance Studios DANCE PLAYLIST
All you need to do is click on the link above and it takes you to our curated dance music playlist. Featuring songs and music for ballet, tap, jazz, contemporary, theatre jazz, latin, Zumba and more! One thing is universal, dance life is our love.
What is a dance music playlist?
All our teachers are adding their chosen music for their chosen choreography. You'll know from reading our post about dance design that music is key to dance so join us and play our highlights when you out and about. Crank the volume up and let's do this already!
This month we musically feature
Ohhh the dance music playlist is always growing and this month we have picked out a few highlights;
Shake ya boom boom – oh my, that sassy slide step in Zumba with a knee in & out. You will be wanting to add your own azucar. The music in Zumba tends to be salsa, merengue, Cumbia, reggeton so the beats are fiesta style so get your carnival hat on and party on with us. Zumba is every Friday at 6pm and Sunday at 10am. 

Tonight belongs to You – Get Prom ready with us as we go live and big. Own it and let's make it clear that dance belongs to all of us. This is a great jazz dance routine with great hand flicks and hip rolls to make it feel like a proper party. Theatre Jazz is every Tuesday at 6.30pm and Friday at 1pm. 
A&E – ahhh don't be fooled because this melody will make you sweep into long lines along with us and Emily. This Goldfrapp piece lends itself so well to Contemporary because the music allows for moments to be carried and catches you for a full flowing dance piece. Contemporary is every Wednesday at 7.15pm and Saturday at 10am. 
Upside Down  – Place your faith in us as we throw in body rolls, shadow steps and knee kicks for this Drop off & Dance number. Now a firm favourite this routine joins another rolling 15 numbers that we rotate them every class so if you just like to just dance, this is the class for you. Drop off & Dance is every Monday 9.30am and 10.30am Thursday at 9.30am and 11.30am and Friday at 9.30am.

And if you have a song suggestion for our teachers then shout it out. Much of our music choices are from our dancers so let your musical choices be known!
Playlist Playtime
Enjoy the playlist in your car, on a walk, doing the cha-cha-chores or even as a wake up alarm call. I've been shaking my shoulders and dance typing this so I cannot wait to wiggle everything I've got when I get back to class either in studio or on Zoom. To see when our dance and fitness classes are on then please check out our dance timetable here and also on social media.
Keep listening,
xx