Welcome to the latest Summer Issue of "Just Dance" 
Going on holiday? Fancy reading something about dance? Then why not bring some dance news with you? We all love to dance, get fit and keep moving and we love to talk about all things dance as well. So grab the latest copy of the magazine and have a read!
The Summer Dance Issue
It has been a busy first half of the year, we have finally got our show numbers out to the wonderful people of Woking. Friends and family came to watch us and we even had the Mayor of Woking pop in to see it. We even had show awards to celebrate it because after the whole lockdown and pandemic our performance was the dance tonic we all needed to get back out there.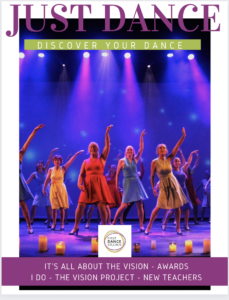 Our dance community and family joined together to put on such a wonderful show. But there have also been other activities that we have been up to. Super Sophie celebrated Bootcamp's first birthday. A fabulous class on a Saturday morning to get moving and get strong. We have x2 new dance teachers who joined us and teaching all things jazz with jazz hands of course. And we also talk about The Vision Project which part of the activities was a dance that was filmed and will be shown at The Lightbox in Woking in September 2022. The dance company from First Dance Studios filmed in June in glorious weather and we are excited to see it all come together.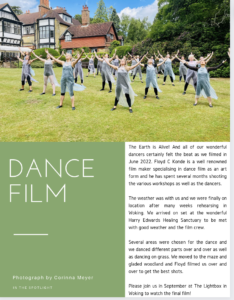 It was so fun to be part of this filming process and we hope for more exciting activities the rest of this year and into 2023. Check out the classes and key dates as well as information about the September 3rd Danceathon. Contact us on info@firstdance.co.uk for further details about the timetable.
**Read the Dance Magazine here – just click the link below*****
OUT NOW First Dance Studios New Summer Issue 2 Magazine

In the next issue
We can talk about dance and fitness for hours and next time we will share show details such as the 80's dance night as well as the Horsell Village Show. Everything from the numbers, how-tos, where and much more information. And if you would like us to include something then please shout, we would love to have you all involved.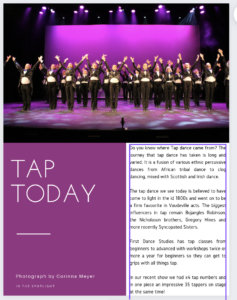 Read about the tap dance classes we have for adults – the new beginner tap workshop starts Thursday 8th September. Check it out here! 
Happy Summer and always remember to keep dancing!
xx