Love is in the air….everywhere we dance around and now this February, First Dance Studios shares the love with you! February is the month of love and so henceforth "LOVE FITNESS, LOVE FEBRUARY" is starting this coming Monday 1st February. Ohhh tell me more!
What is Love Fitness, Love February?
We love keeping fit and now more so than ever in lockdown and this weather. So let's get ready for a month long fitness challenge. For each day in February,  (28 of them if you're counting) you will have a 15-20 minute workout to do. These workouts include a mix of cardio, strength and stretch and perfect for the whole family to get involved in.
It's only 15 mins of your day but you will see the difference in a month. We will be setting up a closed Facebook group whereby the daily workout will be posted early each morning for you to do.
Sounds great, how much is it?
The cost is £28, yes £1 a day  – please get in touch with us for payment details on info@firstdance.co.uk. Then we can send you details of the Facebook group. If you are not on Facebook, we will work out another way to send you the daily workouts.
Who is leading Fitness February?
Our very own fitness queen that is Sophie is on hand for your daily workout recordings. Fitness is great for mental and physical goals as well as providing a challenge in these challenging circumstances we face these days. Sophie is our Zumba, HIIT & Core and Stretch Flow teacher and knows how to keep us motivated. 
'This February is a fantastic time to bring some more movement to your day. There's a lot of sitting around in lockdown so it's becoming increasingly important to give our body and mind some love by moving, and that's exactly what our new 'Love Fitness, Love February' programme sets out to do!'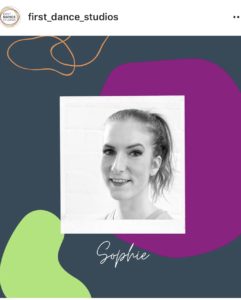 Whatever your goals, from learning in lockdown to losing those love handles, "Love Fitness, Love February" is for you. To get in touch and to find out more please contact us here on info@firstdance.co.uk or on this page. 
The Facebook page already has the first video live and Sophie has included a cracking music play list to get us going and motivating for this month.
From First Dance Studios, with love,
xx