Ohhh it's beginning to sound a little bit Christmas and at First Dance Studios we are excited to bring you some festive cheer with our fun fitness feast that is Festive Fitmas! Our wonderful Fitness fille Sophie (Fitness finalist she is as well) has put together daily workout treats to keep you fit, fab and festive this year. So let's get the details.
What is Festive Fitmas?
Sophie, I see that you have a ginormous sack marked up "Christmas treats" there, what have you in store for us this Festive Fitmas? 
Yes! Can you believe that Christmas is just around the corner? To celebrate the festive countdown we are introducing Festive Fitmas – an advent calendar of fun movement and activity to help people keep moving and get into the festive spirit.
So it is a little bit like the Love Fitness workouts. Ohhh I do like myself a little bit of Christmas Tree Climbers, can you reveal some other winter wonderland work outs for us?
Each day there will be a mini workout, only about 10mins long! And each day there will be a different focus, for example some days will be strength focussed, other days stretch while some will include festive Zumba tracks! The theme is all about feeling good through movement before Christmas with some festive fun thrown in along the way.
Christmas Workout Calendar 
I see, I get it, it's an advent calendar of Christmas cheer to get us moving and grooving. When does this start?
That's exactly it! Just like your chocolate advent calendar, festive fitmas starts on the 1st December and runs to Christmas day.
Well I do like the sound of that. Short, sharp exercises that I can fit in while I do some Christmas shopping. Oh so time to get fit then –  what do I need?
Nothing! Just yourselves! We may use weights on some days but Christmas puddings, bottles of wine, the turkey(!) can be used for this.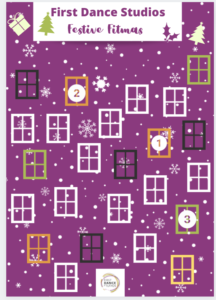 I think that can be arranged. This Festive Fitmas sounds like a lot of fun and are there any prizes to be won?
Maybe….
Oh you tease! OK so I am checking my Christmas to do lists and adding this in. But how do I get involved with this fantastic festive feast of fitness? 
Yes! Amazing – right now how much is the Festive Fitmas calendar? 
The whole 24 daily workouts of 10 minutes each, £10! It runs from the 1st to 24th December so let's get festive fit today!
Bargain! Well I certainly will countdown to Christmas with this fitness feast. I might even treat a friend to this
and some other gifts.
Please send me my calendar!
Keep moving,
xx