Take your place for Magic, music, major merriment with the Musical Theatre crew. Thanks to the technical expertise of Vicky, Musical Theatre continues every Tuesday night at 5.30pm. Discover this exciting realm of dance with extra emphasis on music, song and performance. 
What is Musical Theatre dance class?
Be in the "Room where it happens" every week. And never fear because Vicky is here to demonstrate and guide us through every phrase and every routine. Vicky covers all aspects of musical theatre. From songs, spoken dialogue, acting and dance. It is a class that covers the whole aspect of a performance and unravels the content. Usually the story is weaved together with humour, pathos, love, anger and other emotional conditions with a strong emphases on words, music, acting all integrated together. Ohhh sign me up! 
What Musicals does the Musical theatre class cover?
The whole range of musicals are up for discussion and as a cover is not a book, come along, open zoom up and take a look at what else we have going on. From the show stopping "Together, wherever we go" to the rocking and confident "Another Bites the Dust" where we channeled our Killer Queens, each class focuses on a piece that makes us think, sing and dance. There was some really strong arm action and a commanding towards camera step.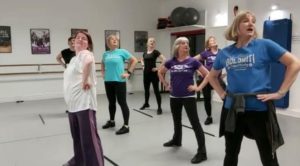 What's on today? 
Ah this week, we have the mother of all musicals, the aptly named Mamma Mia. Oh yes, that palindrome quartet knew a thing or two about how to sing in song. Now you may think you know the song but there may be a surprise in store in class tonight. Come along and join us. We have classes online so you can join in easily from the comfort of your own home, kitchen, living room, garage, bedroom or any where else from home.
This sounds really fun!
Oh and it is, just think, you can make a song and dance and a whole performance from these pieces. Other numbers lined up include Jukebox musicals numbers from "We will Rock you" and many more. To get into the zoom room where it all happens, then please do get in touch with us.
Rise up and defy gravity with us,
xx