Starting this Monday and Tuesday evening, a free class where we all get together online and talk all things dance, shows and performance! How amazing is that? The idea is that we all watch a piece of dance or performance each week beforehand and then we chat about it. Starting on Monday 9th November at 6pm. Feel free to join us with a glass, cuppa, snacks. Cats, dogs, bunnies, other pets, family members, cuddly toys all welcome as well. 
What is this week's dance?
Emma has picked the wonderful Northern Ballet's take on Dracula! Wow. How does that even work as a ballet? I know right? It might seem that the topic would be hard to translate from book and film to stage in ballet form. But in fact it works so well. The character journey is easy to see and understand. There is a beauty and drama that carries through expertly onto the dance floor. Traditional ballet steps are given dramatic centre stage use and where a traditional ballet would have a ball scene, this ballet does have set pieces with wonderful interactions from the dancers. Do discover it's beauty for yourself.
It is currently on BBC iPlayer and available for another 60 days so hopefully you can catch up and watch it before Monday class. It is just over 100 minutes long. Please search for Northern Ballet Dracula. Make a note of what you liked, didn't like, what caught your eye, mind and ears.  How did the piece work for you?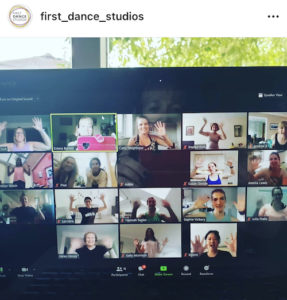 This is such a great idea, what else are you doing?
I am very glad you asked that. We also have Theatre club every Tuesday night in November at 6pm. It is the same premise as Dance Club, but Vicky Jukes and Emma will be chatting about "From here to Eternity" and the merits of turning a film into a musical. Watch this one quickly as it is on YouTube now until tomorrow. This particular piece which ran in London from October 2013 to spring 2014, is adapted from James Jones' 1951 novel and features lyrics by Tim Rice, music by Stuart Brayson and a book by Bill Oakes. Please watch it and come along and chat with us about your thoughts.
Theatre and Dance – excellent – when are these free sessions?
Monday 9th November – Northern Ballet Dracula
Tuesday 10th November – From Here to Eternity 
Both through the power of Zoom. Join us from the comfort and safety of your own home. Make yourself comfy and see you soon in the Zoom Room. 
How do I join in?
We are now on streaming services so you can join in easily online. Please do get in touch with us here for the details to use for the online chat. 
So, if you want a lotta of chitter chatter join our club! 
xx