The twirls, the tans, the sparkles, the hip rotations and yes the race to win the Glitter Ball trophy. Strictly Come Dancing is back! And with it First Dance Studios, invites you to the judging panel. Yes, It's "Strictly Tea Break." Take your brew, find a zoom room with a view and get ready to discuss the dances. 
When is this Strictly Come Dancing Discussion?
Every Monday at 11am as the current run of the long running show on BBC, goes on for, we'll have a cheeky chat. From everything about the costumes, the dances, the performance. We will be joined by our very own Ballroom dance expert Katie Brewer, who will dissect the dances and the steps. Yes, we are all looking at you HRVY and your 130 beat Cha Cha Cha….is that even possible? Join us to find out our thoughts. 
Keep Dancing
Strictly is a solid favourite here at the First Dance Studios. Who remembers it's predecessor Come Dancing?  Back then and still now, you would find many of us swinging a friend or sibling in the living room trying to copy the dances. And it is such a  trip down memory lane for many of us at the dance studio. Why? Because over the past 15 years First Dance Studios has held it's very own medley of musical numbers.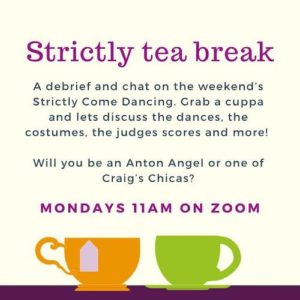 Strictly First, Strictly Dance
Helen, part of the First Dance Friends Family even recalls getting a standing ovation at the Godalming Music Festival with "Rhythm of Life." Other numbers include Hairspray, Dream Girls, Chicago, West Side Story, Oliver and many more. Recent routines include a sassy jazz number to Big The Musical and a smashing tap dance to the Greatest Showman.
Get your very own Strictly Dance Fix with us. Remember there is only one Glitter Ball rule here at First Dance Studios and that is; keep dancing and learning in lockdown. For more details about how to join the online chat with us then please do get in touch with us.  
The only question will be, are you an Anton Angel or part of Craig's Chicas?
Keep Dancing,
xx