It is time. Yes, Easter is almost here and we are in clutching distance of April 2021. The flowers are blossoming, the air is feeling warmer and we've got the fitness feelings! This April, First Dance Studios brings you; Love Fitness on Countdown! Yes we begin, the clock has started to tick and it's time to start. Feel that fitness!
What is Love Fitness on Countdown?
I'm very glad you've asked us that. This is our 6 week fitness programme to get yourself feeling fit, fine and ready to face the world after lockdown. Keeping fit is great for the body, the mind and to give us some focus and direction as we start to all open back up. In just 6 weeks!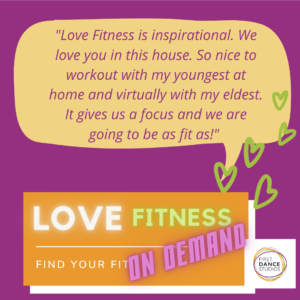 What levels of fitness do I need to have?
The great thing about this fitness programme is that it is for all levels. So whether you are a complete fitness novice and fancy finding your fitness or a fitness pro the programme welcomes you to find your stretch zone and goals. The best part is that we've turned it into one giant game of fitness! Squeal – count us all in.
What's included? 
Ok, check out the details. There is so much packed into this programme and we are so excited to share this with you.
*5 x 15 min workouts a week – very do-able and easy to fit into your day
*A chance to do 4 free live Hiit&Core classes – each 30min (Wed 6pm, also available as a pre-record)
*Weekly forum to check-in on goals, celebrate success, seek advice from Sophie
*Personal coaching on your fitness goals
*Personalised tracker for you to print and measure progress
*Daily fitness challenge to help measure and enhance progress
*Earn points for working out, progress made and goals achieved – Points mean prizes!
When does this fitness programme start?
So whatever your fitness goals, join us and smash them together. We start Monday 5th April and it carries on until 16th May. That's right, 6 weeks to find your fitness, get that in your diary, OMG I am so very there for this and I am definitely looking forward to the personal coaching – I really need to figure out a fitness plan for getting back into the dance studio.
How much does this complete fitness programme cost?
For this content rich programme with 9 classes, forums, personal coaching, fitness tracker and daily challenges and prizes it's only £40. Please get in touch with us to sign up and for payment information.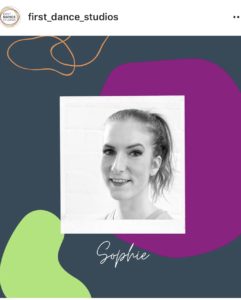 This is my first time joining a fitness programme – what is it like?
Our Super Sophie is in charge of all things fitness for First Dance Studios and since 2016 has been our inspiration to get fit and stay fit. We have loved working out with her and in February we started the Love Fitness programmes. These programmes have been a great way to keep fit from home and during lockdown and even for those with injuries as the programme is for everyone. The programme is a mix of exercises either for upper or lower body and focusing on both HIIT and core as well as strength and stretches. So if you want to set your goals to arms do it. When you want to focus on legs, do that. The choice in this countdown is yours.
Get aboard the Fitness Express
The ticket to leaving lockdown feeling fit and fine is almost yours so get in touch and lets start our fitness fun this month!
Keep working it!
xx