Picass-who? Claude Mon-ehh? Michelangel-old news! The famous creatives can step aside because they ain't a patch on our lot!
First Dance Studios presents: the A-Z Creative Challenge Exhibition
On Saturday 4 th September, a festival of creativity is occurring at Heather Farm. It'll be the place to be for all you lovers of the Arts! Alongside our Danceathon (details here), First Dance Studios Creative Club are holding an exhibition and some fun creative activities to get involved in.
The Details
Saturday 4 th September
10:00 – 17:00
Heather Farm, Woking, GU21 4XY
"But what's this all about?" I hear you ask!
How it started: Introducing the A-Z Creative Challenge
We were mid-lockdown no.3 and definitely in need of some positivity! The creative genius that is Emma Brewer came up with an awesome 8-week creative challenge which ran from January to  March. We were set fun challenges using the alphabet – each letter from A to Z was a different creative theme.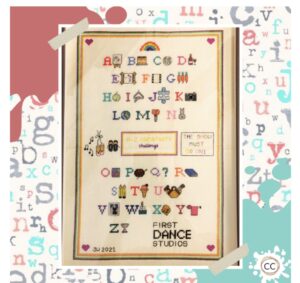 We got involved in a variety of artsy activities, from Art to Embroidery, Bake to Make. The A-Z Creative Challenge was a chance to show off our skills and learn lots of new ones! Then we got together every week on Zoom to show off our creations. There were so many hidden talents among our First Dance members, friends and family (seriously, some of the things that people created – jaws were on the floor!). But regardless, whether we 'tried our best' or triumphed, it was so lovely to see everybody's work, share stories, and have a chat and a cuppa!
At the end of the A-Z Creative Challenge we celebrated with a big virtual partayy (Z for Zoom – nice one Emma). We even crowned our Creative Queen, Marina!
An exhibition…and more!
During the A-Z Creative Challenge we found out we had some proper talent among us, so we've decided to hold an exhibition to display some of the stunning artwork people created. As well as a gallery of our creations, we will also have some interactive creative activities and some tasty goodies (might have to get in there quick for those haha)!
It's going to be such a lovely day and open to anyone to come visit.
We can't wait to see you on Saturday 4th September!
For details on how to get to Heather Farm please contact us here.
xx