Back by popular demand, Dance Club welcome to the stage! This free club to talk all things dance starts back again on Monday 18th January. From 7.30pm – 8.30pm join us to discuss dance. Every month we take a topic, show, dance and dissect the discipline, cogitate on the choreography and discuss! And all from the comfort of your own home.
What dance will be discussed on Monday?
So this session we have a few things to discuss. We all log on and have a chat about this month dance choices. Have a look below to see what we aim to discuss on Monday 18th January;
1. The Nutcracker – please have a look at a couple of different productions and look at the same scene from both to see how they differ. So that Sugar Plum Fairy – it is very different from a Kirov perspective as opposed to The Royal Ballet. What jeted out for you? The costumes, the lighting, the ballet steps.
2. The Secret Garden – this performance is by the Scottish Ballet. If you managed to catch it then we will discuss. If not, then not to worry we will listen tot those that did.
3. Tiny Pretty Things – this is an American drama set in an elite ballet school in Chicago. This is on Netflix at the moment. It is dramatic and bold but very much one for the grown ups!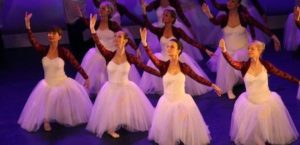 What is the Nutcracker Ballet?
Ahhh this beautiful ballet is from 1892 and is a two act ballet, choreographed by Marius Petipa and Lev Ivanov with an unforgettable score by Tchaikovsky. It is adapted from ETA Hoffman's story 'The Nutcracker and the Mouse King." It has gained popularity as a ballet that is traditionally showcased around Christmas time. The story is stuffed full to the brim with Christmas sparkle as it is set on Christmas Eve and Clara receives a doll. Magically it comes to life and fights the Mouse King. The ballet then highlights various dances inspired from countries around the world and the most famous sequence is the dance of the Sugar Plum Fairy.
Are there any other ballet shows to watch online?
Yes, thanks to one of our amazing Friends, Marina, we have two shows listed below for when you need more of a dance fix.
Watch Alice in Wonderland here. This ballet is available for £3 until Jan 31st 2021. 
2. American Ballet theatre – Isabella Boylston and James Whiteside – with their pas de deux from the Nutcracker.
3. Sugar Plum pas de deux: Adagio (Nuñez, Muntagirov, The Royal Ballet) – this ballet dance is from 2018.
How do I join this free dance club?
This dance session is free and streamed online. Emma takes us through and opens the discussions and we discuss in turn our feelings and thoughts from each part we have seen. To join simply get in touch with us here. Bring a snack or drink and we'll see you online.
I like the look of ballet – do you have any classes?
If, like many of us at First Dance Studios, you admire the steps in ballet then please do join us. We have adult dance ballet classes available weekly and online for you to join safely from home. All levels, shapes and abilities are welcome and we have new routines. If you want to know more about ballet please have a look here. Classes can be seen here.
We look forward to seeing you and remember, keep dancing!
xx