Did you know that the NHS classify dance classes as a "moderate" type of fitness exercise? Honestly – look it up and let's just say, they've obviously never been to any of our First Dance Studios dance and fitness classes because in terms of exercise, music, choreography and fun they are very far from moderate! Full on, dance like no one is watching, all out flop and drop because we get into it so much. And with all that dancing and jumping around means we get a little peckish burning up all those calories. So what is the best snack to eat before a dance class and fuel your fitness?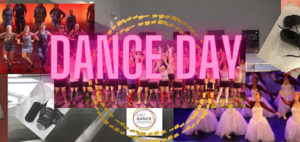 Keep dancing, keep eating
As many of us are dancing from our own zoom rooms, I am particularly envious of those of us dancers stepping out in our kitchens. Snacks are very handily available and within step turn step distance! But we all agree that dancing after a full on meal can be hard so what works well to nibble on before doing a lunge or a three step turn? We've turned to our fitness fille, Sophie, who knows a thing or two about moving and keeping fit.
Sophie is our Zumba, HIIT & Core and Stretch Flow teacher and this month she has been working us all with Love Fitness, Love February challenge. Did you have a go? Now we have a new challenge this month on our hands (Love Fitness on Demand) and we already love it. But we need fuel for our fitness. So what works? Here we show case three snacks that work well before, during and after a dance and/or fitness session.
Sophie's Snack Suggestions
Keep Progressing Protein Bites: Firstly these look scrumptious and I cannot wait to make them. Plus they are super easy to make. Minimum fuss, maximum flavour. This is a firm flavour fave of ours now and they are from
Naturally Sassy. 
The beauty is that you can batch freeze them. Best to eat before or after working out. Sophie's serving suggestions is to have them after a class or in-between classes as a boost.
Ingredients:
2 cups pecans
1 cup dates
1 teaspoon cinnamon
1 teaspoon cacao powder
1/4 cup cacao nibs
Method: Add the pecans to your food processor and grind for around 10-15 seconds until small pieces (don't let it blend further, as we don't want a flour texture!). Now add in all other ingredients except the cacao nibs into the blender – making sure the dates don't have any stones left in them. Blend for a further 2 minutes until totally combined and really gooey, add the cacao nibs and gently pulse to combine. Shape into balls and store in an airtight container, or in the fridge.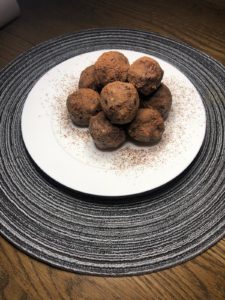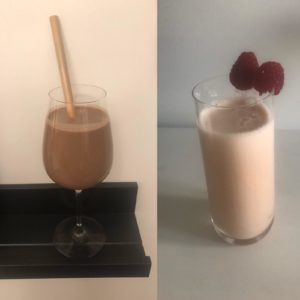 "Keep Smiling and Shimmy" Protein Shakes 
A protein shake is a quick and easy way to get a decent amount of protein in a healthy way. These can be tailored to your own taste and a great way to mix things up. Sophie came up with this one which looks lush! Get Shaking for your salsa sessions every Saturday with Katie at 4pm. 
Almond Milk – Fill the Nutribullet cup to about 75%

Protein Shake  – 2 scoops and any flavour you like. In the pic, one is Mint Choc Chip and the other is Strawberry

A tiny bit of water 

Banana (optional) – sometimes I chuck it in for extra nutrition or if I want to make the smoothie smoother


Fruits/Veggies (optional) – Really depends on personal preference/what you have but I find things like frozen mango, spinach, frozen berries

Whizz it up and you're good to go. I like to serve it into a wine glass LOL!
Ohh give it some Sass Salads
I love my salads as I get to live my inner hungry caterpillar moments and Sophie has a great tip to prepare the salads the evening before to have on hand the next day. Grab whatever you have at hand and make it rainbow in terms of variety in terms of textures, flavours and varieties. Throw in at least one source of protein (beans, halloumi, fish, eggs etc) /healthy fats like avocado in there. Here we have some salads with some sauce(y) sass to keep you going. We've been throwing our sassiness all over the place in
Theatre Jazz every Tuesday evening at 6.30pm.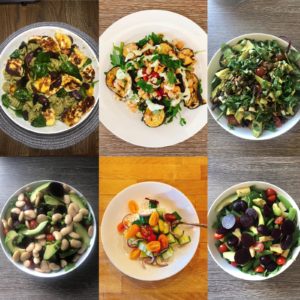 Sophie Says
"Being mindful and consciously thinking about what fuel you are giving your body is so important. As we all know, the body needs the right nutrition to perform well and be well but so often, when we're busy and rushing around, we fall into bad habits or forget to think about nutrition. For me, planning is key – planning what food is on the menu, where I can add extra nutrition, the items I need to shop for, and planning in time for preparation. Plus, lockdown is a great opportunity to be more creative with nutrition too!" Plan and pivot!
If you have a dance class snack suggestion shout out and let us know on info@firstdance.co.uk or contact us here. I'll be right back, I'm off to stir things up snack wise and on the dance floor.
Keep dancing,
xx