"Pack up your troubles in your old kit bag and smile, smile, smile" so goes the song and we pack more than that into our dance bags. When you pop along for a shimmy shake, cha cha or tippy tap dance classes with us at First Dance Studios you are more than welcome to add the bling to the dance bag!
What is a dance kit bag?
A bit like a sports bag, the dance bag has everything a dancer needs for class, rehearsals and shows. For classes in studio, dance shoes are needed and if you come to a few classes you may need a few dance shoes. In the bag they go.  It does get hot in class and water breaks are needed so a bottle of water comes in handy as well. And into the bag it goes.  And if like me you tend to a) do multiple back to back classes or b) always hungry, then pack a snack or two with you. I have a preference for dark chocolate or the odd penguin bar. If classes straddle lunch, I'll bring my packed lunch with me. All into the dance bag they go. 
Dances classes can be a full fun workout, the routines tend to focus on high impact energy with pauses where we learn new sections to a dance. This high to low to high intensity can make you sweaty so think about bringing a towel if you need one. I also like to bring along tissues and plasters just in case shoes rub or for extra toe protection. 
Can I bring anything else in my dance bag?
Yes, at times you might like to bring a change of t-shirt or top if it gets too sweaty. Sometimes a jumper or warmer top especially if it colder outside than inside the dance studio. Though it isn't necessary as we have a lot of hand sanitising gel about the place you can also bring your own gel. I also like to include some mints or chewing gum and some lip balm. If like me your hair takes on a mind of its own during a dance class then bring along a brush and hair bands as well. 
Do I need a special dance bag?
The choice is up to you and there are all sorts of bags out there. Some are specially for dance and are sold in dance specialist shops and their websites. But you can use anything really. From tote bags, back packs, weekend bags you chose what bag you might need for class. Coming by car or bike you might dispense with the bag for the studio and just bring your water bottle and shoes with you into class. I bought a small general gym type bag from Woking town centre like this one in the photo. My bag fits over 6 pairs of dance shoes, a water bottle, leggings, snacks, gel, quite a few snacks and lots more.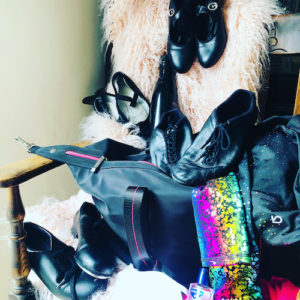 What about for dance shows and performances?
When it comes to dance resherals for shows and performances then things remain much the same. You just might need a few more items. You might need to bring some extra make up for touch ups. And maybe a sewing kit for your ballet shoes or outfits. I never leave without my safety pins. Definitely saved me when I've gotten in a pinch. And all tucked away in my dance bag. 
Outfit dance bags
If you are in a show dance number then you will have a costume to wear. Your dance bag should be sufficient if you are in one or two numbers. However if you are like quite a few of us and in five or more numbers (I know, we love it so much we want to be in all the numbers) then you will have a fare few costumes. If this is the case then a suitcase for performances days is likely to be needed. After all you may need up to five different pairs of dance shoes, different make up for the dances, a change of costumes, clothes for arrival and going home, a towel, wipes and more. Further details on show preparation coming soon. 
What do you have in your dance bag? Let us know by posting it on social media and tagging us with your post. Come along to the studio and show off your dance bag. Take your pick from ballet, tap, contemporary jazz, street jazz dance and much more. All abilities and levels very welcome. Have a look at our classes here.  Pack your shoes and join us for a dance.
First Dance, for all.
xx