In part 3 of our jazz dance series we explore Technical Jazz. At First Dance Studios our dance teachers have spent hours dancing and teaching and as dancers working the technical side of dance is just as important as the musicality of a dance. So what is technical jazz and what can it do for us as dancers?
What is Technical Jazz?
At First Dance Studios, based at the lovely Heather Farm, (check out the wildlife – so lovely) Emma teaches a technical jazz class every Tuesday evening at 6.30pm and on Friday at 11.30am. In these classes technique and honing each step and combination are very much key. To learn to turn requires preparation. In class, after a fun loose warm up, Emma gets us thinking about arm, leg and weight placement. We learn combinations that set the shape of a jazz turn or a jump.  The wonderful thing about this class is that we learn good posture, rhythm, positioning and development of self awareness and confidence.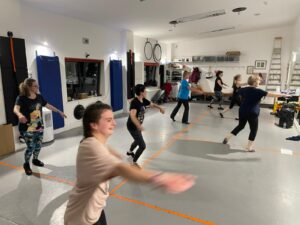 What is a contraction in modern dance?
In warms up we focus on contractions. These are important for the body and muscle to move so that we can create shapes and silhouettes required for jazz dance. And put simply a dance contraction is when we curve forward with the spine and hug in closing ourselves to heart centre. Such movements give modern dance style and identify it as jazz rather than ballet for example.
What is an isolation in jazz dance?
We spend time warming up with isolations. This is when we take on part of the body and focus on moving it while holding the other areas still. For modern and jazz dance this means mostly the rib cage which is a move that is often seen in this type of dance discipline. Other isolations include hip rolls which work to also loosen and work the hip to keep them moving.
Who is this Technical Jazz dance class for?
For anyone and everyone seeking to improve their dance technique, move, have fun and practice to be show ready. Any level of fitness and no dance experience is required as Emma tailors the moves to different levels. In class we pay consideration to working through muscles to get the shapes we want to. As Emma trained at Bodyworks and danced pro for years she has an amazing ability to teach dance to us all. And you can always tell a studied technical dancer on stage, as well as their dynamic movements, their lines are sharp and more aesthetically pleasing. And you know what they say, "practice makes performance!"

What is the difference between modern jazz dance and ballet?
Jazz, modern, street, contemporary dance disciplines are mostly focused on the natural movements of the body. Parallel legs, a more relaxed feel to each movement, bent knees. Ballet tends to focus on turning out of the feet and hips, strong knees and a fluid grace with heart centre up and forward. To see the ballet classes every week please check this page out. 
What do I need for dance class?
Bring yourself, a water bottle, comfortable clothes for working out in and maybe a towel to wipe your face. Working each muscle group is a workout. We usually dance in jazz shoes or dance sneakers especially to get a good turn. To see more about dance shoes please read this blog post.
When is Technical Jazz dance?
Emma leads us every Tuesday at 6.30pm and Friday at 11.30am so you have the choice depending on how your week is going. To sign up to class please use the MindBody app and look for First Dance Studios Woking. Or contact us here. 
Let's dance,
xx