Congratulations! We hear that you are getting married! We are very happy for you both as you head towards your upcoming nuptials. Today and now, more than ever, take the time to celebrate and make your day even more special. Like many aspects of your big day, your first dance as a married couple is a key moment that you should look forward to and enjoy.
Take to the floor as the new married couple
At First Dance Studios we strive to provide the very best tailored experience to let you put your best foot forward and take to the floor with confidence. Whether you have 4 left feet, no sense of rhythm, a bit of dance experience or are the next Strictly champion we have a package to suit your needs, tastes and wallet.
All levels include a video recording of your class for your reference and practice, and detailed notes following the lesson. This means that you can refer to them and practice your steps as you go.
Where can I take Wedding Dance lessons?
Learning to dance to your chosen wedding song is simple. We have venues all over Surrey, including; Woking, West Byfleet, Guildford and Farnham – or lessons can be taught in a venue close to your home. Our studio follows COVID guidelines as well.
What is the first dance process?
With First Dance you learn a first dance and the initial consultation is FREE. Completely free and without obligation, our Initial First Dance Consultation lets us chat through what you are looking for, helps you decide what you need and puts your minds at ease. Not only that but the consultation can be done in person, over the phone or even via Zoom! We can go through what you need to know including music, shoes, cost, dance style and much more!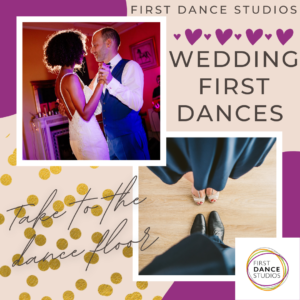 What are the different First Dance Levels?
We have four different tiers for First Dance learners. Please have a look at each one and decide which works out best for you. Our wedding first dance consultants can help guide you through the choices when you discuss them at the initial consultation.
Level 1 £25 per couple
A 90-minute group session with up to 9 other couples, learning the basics of hold, moving together in time to the music, and the basic steps and turns. Using your own first dance song, and the most popular wedding songs,
learn to feel confident in each other's arms and able to make your way around the floor in style.
Level 2 £55 per couple
A 60-minute private lesson learning the basics of hold, moving together in time to the music, plus the basic steps and a turn or two. Dance to your own chosen first dance song which will give you the confidence to move around the floor and dance your own way!
Level 3 £199 per couple
Three 60-minute private lessons to take you through all the basics – step by step, PLUS to learn a dance choreographed specifically for you on your big day. Build your knowledge over the lessons, feel yourselves move around the floor as "one" and dance with confidence. A polished performance.
Level 4 £POA
Calling all Strictly wannabees, or Flashmob hopefuls! Our level 4 package is for those who really want to show off their dance skills! Whether you want a "show dance" as a couple, or a flashmob to get your bridesmaids/groomsmen/ families involved this multi-lesson package will take you through your paces! We've also done hen party packages so get in touch to find out more.
Check out what the wonderful Sian said today on our Instagram!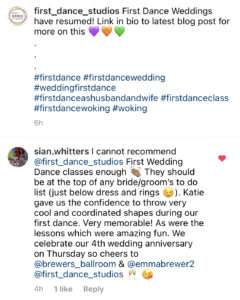 First Dances – Timeline from start to "I do!"
Lately it has been a challenge to plan things but please do contact us to learn about timings for learning your first dance. Below is a timeline that has worked well for many couples taking to the dance floor.
Initial Consultation – anytime!
Level 1 – just a few weeks before the wedding
Level 2 – starting 2-3 weeks before the wedding
Level 3 – starting 4-6 weeks before the wedding
Level 4 – give yourselves plenty of time!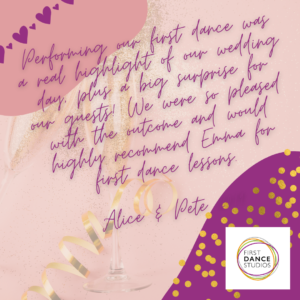 Wedding Dance FAQ's
We have a whole page dedicated to First Dance learning and questions so please check out this page with further information. 
We've also been featured in Surrey Weddings and been teaching new couples to dance for the first time since 2002! With dance success for almost 20 years and been featured in Surrey Weddings Magazine we would love to be part of your wedding planning.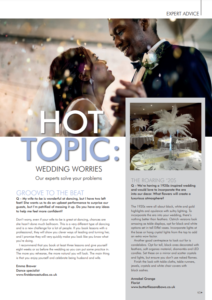 We can also teach friends and families to join in with the dance. We've even taught dances on Hen Parties. We have also had families give the happy couple lessons as an engagement or wedding present so we also have first dance vouchers available.
To learn more about your First Dance then please do contact us here or email us at info@firstdance.co.uk
Congratulations once again and keep dancing!
xx