Make a date with the latest Tap-torial Masterclass this month! Throughout January grab your tap shoes, choose your zoom room (hall way, kitchen, living room) and join us every Saturday for a focused tap technique maestro class. Join Karen and her new tap shoes (well jel – look at them!) as we step up and tap it out.
What tap dance technique is happening on Saturday?
Check out the video here as Karen outlines what this week's tap class will focus on.
Tap Dance Shuffles Masterclass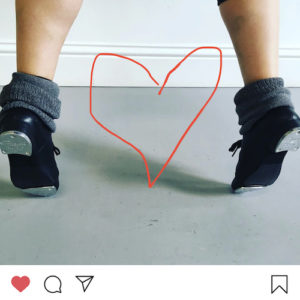 What is a tap shuffle?
The tap shuffle is that lovely sound when you brush your foot and brush back again. It is a much used step and also sound that is used a lot in a lot of First Dance Studios tap dance choreographies. Have a look here at some of the tap-tactic performances and shows that this step has been showcased in over the years. How amazing are those performances?
Stop shuffling in your slippers and start shuffling in your tap shoes instead. Join our class this Saturday for the secrets to shuffling. To get the shuffle to sound correctly it requires technique, practice, patience and a good ear and sense of how, when, why your foot is shuffling correctly. Are your knees facing the correct way? Are you moving your ankle? Karen will take us through the mechanics of the shuffle. From the 3-beat shuffle to syncopations, evens and beyond, securing a stronger shuffle no matter what level you are at. Giles is back to assist as is Robbie Williams "You Can't Take that Away from Me," as we commit the steps to memory.
When is this tap step shuffle masterclass?
This Saturday, Shuffle class starts at 12 noon and is mixed ability. Come along and learn from the comfort of your own home and go online with us. Wear your tap shoes or even tap in your jazz shoes or trainers if you don't have a tap board. And did you see those lovely new tap shoes – from Bloch, purveyor of rather fine tap dance shoes – other suppliers are available but Bloch is a great dance wear brand.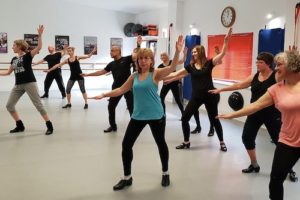 How can I then use the tap shuffle?
Put your steps into practice later on the same day as Emma will be doing Show Tap on Saturday afternoon at 2.45pm with a new tap dance number to "King of New York" from Newsies. Peep the tap shoe, we're giving you the full on front page tap news! And if you have never tap danced before and fancy learning a new skill then the beginner's tap workshop will be in April 2021.
Please get in touch with us here to find out more.
Keep Tapping!
xx