Welcome once again to our series on our
fantastic dance & fitness teachers.
Today we have Sam who is our latest addition to our fitness classes, raising the barre for us all and helping us tone all the way and down. Barre Fitness is currently every
Wednesday evening at 6pm
. Please have a look at the classes here to see the full
dance & fitness timetable.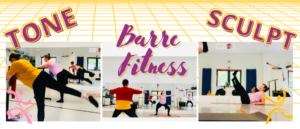 1. So many joined in Barre Fitness on our Taster Day, congratulations as everyone really enjoyed it. But what is barre fitness and how did you get involved?
Barre fitness is a unique exercise to music programme that draws on elements from Yoga, Pilates and traditional Ballet conditioning. It focuses predominately on small, targeted movements that are designed to sculpt muscle and provide new challenges for the body.
I first started participating in classes after struggling with my own mental health and soon became hooked on the upbeat flows and the visible benefits it was having. I knew it was something I wanted to explore further as part of my career and finally took the plunge during lockdown to gain my Barre instructor qualifications.
2. I've been a huge fan since it started and have really seen a change in my muscles. Who are these classes for in terms of level and ability? 
The great thing about Barre is that is is accessible for everyone – no previous dance or general exercise experience is necessary. I will always try to offer alternatives/modifications throughout the class, as well as a few cheeky challenges for those that want to step up the intensity.
3. In a usual class you always talk about large and small muscle groups. Barre Fitness focuses on 4 key areas – why are these areas so important?
Placing specific focus on the arm, leg, gluteal and abdominal muscles ensures a balanced, well structured class that allows every major muscle group (plus a few smaller, stabilising muscles) to be both worked and stretched throughout the session. This type of training is key to supporting us in everyday activities and in reducing muscular imbalances that can lead to injury.
4. People used the ballet barre and mats this weekend in the session but what kind of workout is Barre Fitness?
It's a low impact (kind to joints), high intensity strength and conditioning workout. Although there's no running or jumping involved, guaranteed you'll still have worked up a sweat by the end of the session!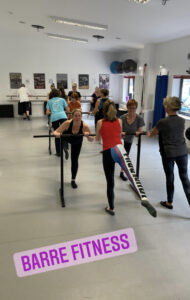 5. You've danced as well as being a Barre Fitness teacher – how do you come up with the choreography for the exercise routine?
I always start by setting down the main exercises I would like to incorporate into each section before playing around with different flows and variations to slowly build up the sequence intensity. My previous training experiences in dance and fitness play a big part in this – being exposed to different workshops and opportunities allows you to spark new ideas, learn from other's techniques/experiences and keep your own choreography fresh and interesting.
6. I often get asked this question and I struggle with what to say because I love both these classes. What are the differences between a Barre Class and a Ballet class?
There is no denying that Barre has strong roots in dance and encompasses many classic movements and positions that are often seen in a Ballet class. The main difference is that there is no choreographed dance routine or step sequences to memorise in Barre – instead the focus stays on small isometric contractions to build muscle strength and coordination.
7. What do I need to bring for a Barre Fitness class? And why?
I will often try to incorporate small pieces of equipment into at least one section of the class for added resistance (to encourage muscles to work harder) and to aid correct alignment; these may include light hand weights or loop power bands.
Yoga mats are also used for all of our floor work sections. Everything you need can be provided at the studio, or feel free to bring along your own!
8. What fitness inspires you to move?
Although I never used to be a fan, I've recently started running after work – it's a great opportunity to take in some fresh air, get my body moving and shake off any worries from the day. I also really enjoy participating in charity fitness events, as they are often the chance to push myself to new limits whilst raising money for a good cause. Finding something you can pour your passion and energy into is always a good feeling.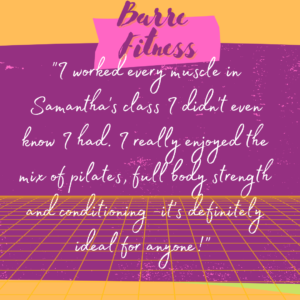 9. Why is movement so important?
One of my favourite quotes that I constantly refer back to is "If you don't make time for your wellness, you will be forced to make time for your illness." Moving the body is a fundamental part of our everyday physical and mental health and how we connect to the world around us.
10. What benefits will I see after a continual course of Barre Fitness classes?
Barre has many positive influences on the body, including: improved balance/agility and posture, an increase in muscle strength, endurance and flexibility, boosted energy levels and a big hit of confidence! It gives me great happiness as a teacher to watch everyone progress and achieve new moves or positions they never thought they'd be able to do a few weeks previously. As I always say, give it a try and you may surprise yourself!
Bring yourself to the Barre every Wednesday at 6pm. To join in
please get in touch here
and check out our social media to see the classes in action.
See you at the barre!
xx