Love is in the air and now on the dance floor! It's official, it's our 20th Anniversary! First Dance Studios has been teaching wedding and celebration First Dances for 20, yes twenty years! In that time Award Winning Emma Brewer and her team of teachers have taught well over 2000 couples. And we've loved teaching you all and seeing you celebrate in style on your wedding day. We've even been featured in several wedding magazines over the years. Check out our rosette of excellence from Wedding & Honeymoon magazine below!

What is a first dance?
Traditionally the first dance is when the newly married couple celebrate their union with a dance. And because yes, it is the first time they will dance as a married couple then it's called a First Dance. In these past two decades we have been lucky to teach couples all sorts of dances with waltz, tango, jive styles thrown in. Each couple is so unique that their first dance really becomes something special.
How does learning a first dance work?
We offer a free initial consultation either in person or on Zoom and we can talk you through what your expectations are as well as details about your wedding. Then when you come into the dance studio we will take your through the basics and start to teach you a personalised first dance with your choice of music. Check out our page all about weddings and celebrations for lots more information and packages.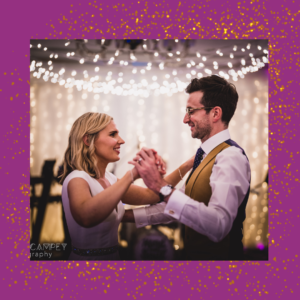 How do we choose our First Dance Song?
Firstly choose a song that either means something special to you both. So for example the first song you both loved or a song from a shared singer you love. Or secondly listen to a whole selection of love songs. Then see which you both want to move naturally to. That's a keeper! Our couples have chosen traditional love songs to rock, pop and all sorts of genres.
When should we book lessons before the big day?
Ideally a good 4-6 weeks away from your wedding week would be a good time to have the first lesson. Then with two other lessons spaced out before the wedding. So please do get in touch.
We can't dance – what do we do?
We've got you! With two decades of teaching couples their first dance we can tailor your dance to suit all levels of dance experience. Even if you feel you have two left feet we can make your first dance special and the start of the party on your wedding day. Check out our First Dance video – including the wonderful Becky and Dany who got married in October 2021. They opted for a Classic Package and the crowd went wild. Photos can be seen here. 
For further information about your big day then please get in touch, we would love to be part of your big day.
Happy Wedding Dancing,
xx