Welcome to our new First Dance Studios series about our First Dancers aka our fantastic dance teachers. This week we have Diana – our sassy street jazz champion who is a winning tap dancer and we are proud to say part of the Dance Woking programme. So let's get to it – find out more about Diana and her classes she teaches here. 
1. Congratulations on joining the Dance Woking outreach team – what does that entail for you?
Thank you, at the moment I am starting working a breakfast club at Beaufort Primary School for 2 mornings a week & they have me to ask for cover at any time during the term times!
2. Introducing children to dance is a great way to exercise, manage stress, encourage energetic outlets but how did you start your own dance journey?
I started ballet when I was 2 & from there I just grew such a passion for it. My dance teacher had me going for numerous opportunities as well as achieving high grades in all genres in exams also!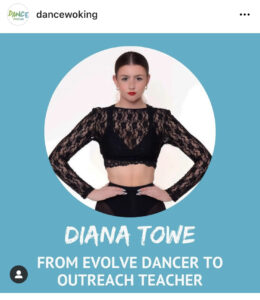 3. So that is ballet, contemporary, street jazz and tap dance – that is a lot of dance disciplines. And congratulations again because you are actually a x7 – yes x7 World Champion with Tap Attack (dance group). What has been your favourite performance?
Oh wow, that's is such a hard choice as I've done over 15 different routines over the 6 years of competing! But if I had to choose one it would be either my trio I did in 2019 with Kai & Harvey or my Duo I did with Isabella also in 2019!
4. A huge part of dance is performing to a choreographed piece of dance. What has been ur most fun performance/choreography?
I have performed A LOT so again a very tricky question but it would have to be the finals of my first ever world champion dance! It was a formation performed to Michael Jackson's 'Working Day & Night' it was a hard working process but it all payed of when I heard tap attack for the first time in that 1st place! Incredible experience and sharing the stage with what I would call family has to take the top spot!
5. You also teach dance – how do you go about coming up with such amazing choreography? What steps are easy/hard?
In terms of choreography the main thing to get my brain into gear is the music has to sit well with me not only do I have to enjoy the song but I have to be able to freestyle to it as that's where my bulk of ideas come from! I film myself freestyling and watch it back, steal moves from that and place them in an order that feels smooth and natural for the body. I also like to make sure there is room for my students to for example, make it comfortable for their own body and have a free choice in arm as not everything that I'd find natural feels good for them whilst performing the piece! The hardest part is definitely finding the perfect piece of music as like I said is where all my creativity comes from!
6. You teach lots of dance styles – what are the key differences?
I'd say the key difference between certain styles is definitely the various different techniques you need to be able to spot the difference, for example going really opposite ends of the scale Ballet & Street! Ballet is very upright and placed, it's specific to where every arm and leg goes there's always a wrong and a right but with street although you need good discipline to get through fast choreography it's much more free you can let loose way more & make it very YOU!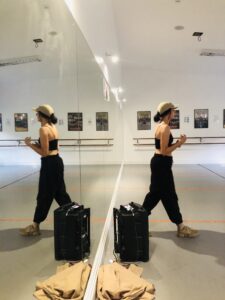 7. What advice do you have for someone returning to dance or starting dance classes as an adult?
This is an amazing question! Advice for people returning or starting from scratch will always be the same… throw everything you have into it because 1) it'll help the movements become more natural to your body if you are going full out 2) if you go full out the teacher will 100% be able to help you further as they can see your full potential 3) I guarantee you will have way more fun, you will feel free and like you can do anything in that hour or 2  you are in class! Dance is so expressive so whatever you are coming to class for wether it's for fun or for something more disciplined I will always want my students to leave the room feeling good about themselves and wanting to come back!
8. We sometimes struggle to retain a routine – what advice would you give when that happens?
Anyone who takes my class will know exactly what I'm going to say BUT if you are struggling to retain a routine my biggest thing is to always do every move with full energy as that is when all movements will start to sink into not just mental memory but muscle memory too! As well as full out energy whenever you dance the routine with music even if you are 1,2 or 8 counts behind everyone else still continue all the way through to the end as if you stop part way you are blocking your brain at that specific moment you stop and teaching your own brain to stop there every single time and it will become a block so always carry on or pick it up where you can NEVER stop 🙂
9. What dancers/choreographers inspire you?
There are far too many to list all but my main ones growing up for performance have been JoJo Gomez, Kaycee Rice & Bailey Sok & for Choreography Koosung Jung, Kyle Hanagami, Josh Pilmore & Sean Lew! Recently during the Covid-19 period Sean Lew created a short film all narrated through dance called "AN UNSPOKEN NARRATIVE" it's made up of 8 scenes and I would recommend it to anyone not just dancers but anyone!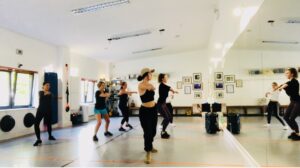 10. What's next for you?!
Next for me will hopefully be a continuation for my teaching but reaching for my dreams of being a professional dance performer… so agency hunting, audition hunting & most importantly staying determined and not giving up!
The First Dance Studios Family wish you lots of dancing fun and opportunities. To see the dance sessions that Diana teaches and days and times of her classes please check this page out. 
Contact us to find out how you can be part of Diana's fierce dance tribe,
Keep dancing,
xx