Bong! This is the news! Yes, as you will have heard the UK Government has announced the 2nd lockdown of the year. And yes, this means that our beloved dance studio space will have to close from Thursday 5th November 2020. However, that doesn't mean we stop dancing! Oh no. This means that we simply go online and offer classes from the comfort of your living room, bedroom, patio, kitchen, garden instead. Children, other family members, dogs and cats all welcome. 
Yes, take us with you when you need your dance fix. We have over 35 classes available to stream online. We've had people locally join in and boogie. But not just from Woking, we've had people from Italy, France, Australia come along and cut quite the crease in their carpets! And if the time doesn't suit you then you get the option of doing the class in your own time as they available as a recording afterwards. Seriously? Yes of course, don't think we would let a dance go un-danced did you?!
What does it mean for in studio classes?
For now, it means dance classes will still go ahead on Monday 2nd November, Tuesday 3rd November and Wednesday 4th November in the studio itself. They will also be streamed so you have that option as well to simply log in from home. After Thursday 5th November classes will only take place online. The studio will be closed and will remain closed for at least four weeks. We all want our families and friends to be safe and well so let's lockdown and do some locomotion from home instead. 
Can I book some classes in studio this week?

 
Yes, some teachers have re-arranged things so you have some extra class options thrown in. For example we have changes to Drop off and Dance that are throwing some extra classes on Tuesday and Wednesday instead. For all classes please see the timetable here. Daily updates on classes and information will be available on our social media pages.
How to I stream classes online? 
All First Dance Studio classes are available already online. Please see here for further information about how to use mind body and Zoom for booking and streaming classes. You download zoom, use the teachers class details and password and log in and dance, sing, act, perform, laugh and virtually hug everyone. It is a great way to stay connected, stay dancing and stay sane.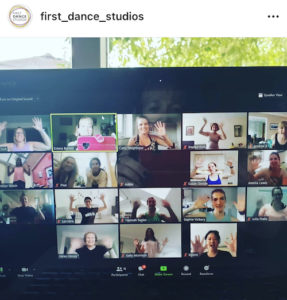 Keep Dancing, stay safe
All the teachers at First Dance Studios have loved seeing you back in studio but needs must and we will see you online safe and sound. From all the friends and dancers, singers, performers, thank you to First Dance for keeping us going over lockdown once again. We will be back in COVID safe studio setting again but for now, we have music, we have dance and we have each other. 
With much love, 
First Dance Studios
xx