Picture the scenes…
You are wandering round a local art exhibition, warm cup of mulled wine in hand, tucking into a festive bake as you gather some Christmas present inspo. Does that sound like a lovely way to celebrate the festive season? Well then we've got you covered! 
FDS Creative Community invites you to our Christmas Fair & Art Exhibition 
Sunday 12th December, 12 – 4pm
Heather Farm, Woking, Surrey
Free Entry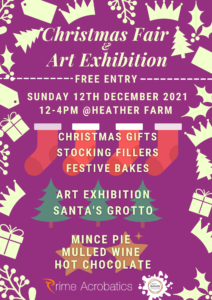 First Dance Studios gets Festive
Yes we're bringing some festive sparkle to Heather Farm. Come and have a browse round our Christmas Fair, where there will be stalls selling an array of gifts perfect for your loved ones this holiday season. Go local and support your favourite small businesses. How about some self-care candles for yourself or a friend? Some cracking crochet and much more besides.
Ready, steady…BAKE!
Also – because let's be honest, one of the best things about Christmas is the food – the fair will feature a festive bakes table. Yum, I'll take one of each please! We'll be selling mulled wine, hot chocolate and mince pies in the foyer too. Honestly if the smell of all these tasty treats alone isn't enough to tempt you in I'll eat my Christmas stocking! 
Special Guest who loves checking lists
We've already had an RSVP from an exciting special guest. We couldn't hold a Christmas Fair without inviting the man himself, so for one day only Heather Farm is hosting Santa Claus! Bring your children along to Santa's Grotto to meet Santa and one of his elves. 
Art Exhibition
Alongside our Christmas Fair we are also thrilled to have our second Creative Community Art Exhibition on display in the foyer. The exhibition will feature artwork from our Summer and Autumn Creative Challenges. Some of the artwork you will see includes summer watercolour landscapes, amazing abstract art, and autumn embroidery.
We will also have copies of our Winter Creations magazine on display, detailing the upcoming winter Creative Challenges and Events, along with some themed articles to entertain and get those creative brain cells whirring.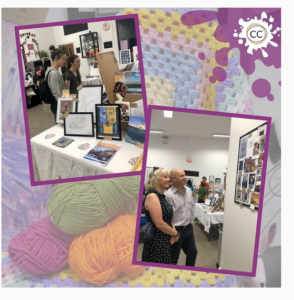 Creative Community Free Magazine
Would you like to be a part of our Creative Community and feature in our Exhibition? We are still accepting submissions for the exhibition. You are welcome to get involved with any of our Creative Challenges so far, and we are receiving artwork up until 10th December.
See our autumn magazine, Creations, for more information about each of the challenges – watch out on the socials for more information.
****************READ THE NEWLEY RELEASED WINTER EDITION HERE********************
FDS Creation Magazine Winter December 2021
To join in or should you have any questions then please do contact us on this email (creativeclub@firstdance.co.uk) or any of our social media accounts.
To find us on Instagram click here
And on Facebook try this link out.
We cannot wait to welcome you to our Christmas Fair and Art Exhibition!
See you there x