Who wants to give their brain an extra workout? Who wants to be entertained for the next 8 weeks? Who needs a fun challenge during these chilly months to keep going? WE ALL DO! And that is why First Dance Studios have started the A-Z Creativity Challenge!
What is the A-Z CREATIVITY CHALLENGE?
As well as loving dance, music, movement and each other we firmly believe that being musical is a facet of creativity. And we all have a creative streak in them. With that in mind, First Dance Studios wants to see what amazing things you can come up with for this challenge, 26 of them in fact over the next 8 weeks.
What to expect?
• A chance to show your already creative streak and wow us with your creations
• A chance to try something new and realise that you are good at it or possibly not!
• A chance to share ideas and inspire others
• A chance to get the whole family involved
• A chance to meet up once a week on zoom to discuss, show off or even laugh at some of our creations
Even if you are convinced that you aren't creative, please do join in as this will be FUN! It will be food-based, arts, crafts, new interests and there is no need to spend lots of money on materials, use what you have in the cupboards at home – this might be funnier!
When do we share our creations? 
The Zoom A-Z forums will be on a Monday morning at 11am and a Monday evening at 7.30pm. One of these sessions will also be recorded so you can get the link and follow it each week if you would like to. You do not have to join in the forums, purely just do the challenges and enjoy!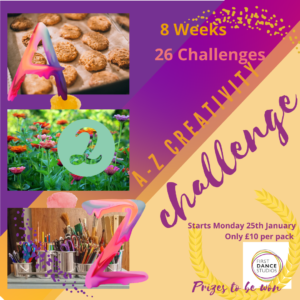 What are the challenges?
The challenges will be in the format of an A-Z, so each week you will be set 3 tasks….starting with A, B, C etc. The cost for this whole challenge is £10 – and you can involve as many people in your household as you'd like. (You could even have your own 'in-house' competition).
Once you have paid for the Creativity Challenge, you will be sent the "pack" so you can see what tasks have been set and you can start to get some ideas. Then each week, when you have finished your amazing creations, simply take a picture of them and submit your entries to Emma.
She will then give you a 'score" for your entry and decide which ones are the best ones to share with others. Emma would love to see the disasters too, so don't be shy about sending in the things that don't quite work out! It's what it's all about – the taking part. If you don't want your submission to be shared, that's fine too, just let Emma know!
How do I sign up to this challenge?
If you would like to sign up, this challenge will start on MONDAY 25TH JANUARY and the FDS Creative Champions will be crowned on Friday 26th March.
Heads up, there is no dancing involved in these challenges, it will look at your "other" creative side and each week, you will be sent links to where you can learn more about the particular challenges – you might discover a new love and find something that you would like to try again so this will be the chance to support local businesses that can help you pursue this. If you would like to see our full range of
dance classes please have a look here. 
If you join and you don't partake in some of the challenges, it doesn't matter! There will be points for each submission and at the end of the whole challenge, there will be prizes and an awards ceremony for the "quality" submissions, in many senses of the word.
Let's keep sane together and let's enjoy some new activities or show everyone how talented (or not!) we are!